Top 5 Sushi Places in Milwaukee
5) Kyoto's - Greenfield
Sushi Selection: Fairly large sushi menu with a lot of creative options. Equal number of raw and cooked rolls. A lot of their rolls have cream cheese in them and I'm not really a fan of cream cheese in my sushi >_< ! They also have a "Create Your Own Roll" option for about $20.
Service: Service is always excellent every time we go.
Value: They have really good lunch specials like "3 rolls for $10.00" or all-inclusive entree lunches with soup and salad. On Sundays, Mondays, and Tuesdays they have All-You-Can-Eat (A.Y.C.E.) Sushi for about $25/person. This is great if you go with a large hungry group. You get to order from the A.Y.C.E. menu which has all you can eat appetizers, soups, salads, and desserts included! Order a couple rolls for the first round then after you're halfway through, order a second round of rolls, then a third, etcetera etcetera. But house rules say all of the food must be finished, otherwise you'll have to pay for each individual item.
4) Fujiyama - West Allis
Sushi Selection: Their rolls are great but their selection is fairly small compared to the other restaurants. Their soups and entrees are much more in the spotlight here. My fav here is the American Dream Roll ($11) with shrimp tempura, eel, avocado, cucumber and masago.
Service: A+ Service
Value: Their prices are the best out of all 5 restaurants. On some nights they have half off sushi! And their lunch and dinner specials are really cheap.
3) Japanica - Greenfield
Sushi Selection: Very elaborate rolls with great attention to detail in preparing them and it shows in the presentation. Their spider roll is the best in the city and their specialty rolls are made perfectly. The Chef's Special roll ($13) is a shrimp tempura roll with avocado and eel slices on top drizzled with Chef Sauce. This. Sauce. Is. Amazing. Also try the Crunchy 2-in-1 Roll ($13) with Salmon tempura and avocado on the inside and spicy crabmeat and panko crumbs on top.
Service: Some of the waitstaff have heavy asian accents so there might be some language barrier but service is always really good. Ask for Angela to be your server, she's a good friend of mine!
Value: Fairly priced. $60 can easily be spent here on dinner for two. No specials or deals that I know of.
2) Nana Asian Fusion - Shorewood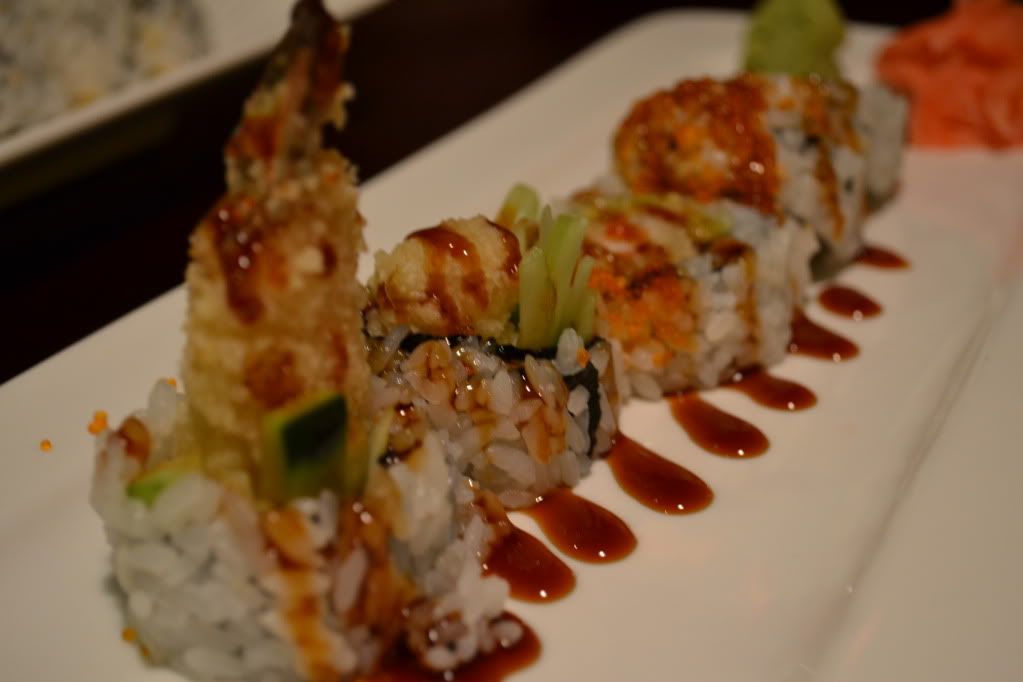 Sushi Selection:
Medium sized selection with the basics such as Shrimp Tempura, Eel/Cucumber, Spicy Salmon. Complemented with a very unique section of specialty rolls. Try the Angry Dragon roll with shrimp tempura, cucumber, avocado and spicy crabmeat on top. I'm not a fan of raw sushi but Chhally is. He thinks their raw sushi rolls are the freshest he's had yet and notes that the Spicy Salmon roll elsewhere always have a slimy texture to it, but at Nana their Spicy Salmon roll wasn't slimy at all. You could actually taste the salmon, the spicy mayo and the panko crunch they mix in instead of focusing on the chewiness.
Service: Excellent, attentive, and friendly (even on a busy night). Ask for Rickey to be your server!
Value: Average price for sushi. Basic rolls range from $4-$5 and specialty rolls range from $11-$16. Portions are big, definitely worth it.
1) Kiku - Located Downtown
Sushi Selection: I think Kiku has the largest selection of sushi rolls in the city. Their menu is huge (literally, it's almost poster size) and about 5 pages filled with pictures of all of their rolls and detailed descriptions. I love the way their menu is set up, it's helpful when deciding. I don't have to worry about any surprises showing up in my sushi. Plate presentation is always gorgeous with various decorative fruits and veggies on the plate.
Service: Service is spotty and can be slow, but not to the point where it will disrupt your meal.
Value:
Kiku = Pricey! But they always have groupon deals and lunch specials. I always take advantage of their groupon deals or
restaurant.com
deals! Sushi rolls are huge and portions are generous. You get what you pay for in quality and quantity.