The Wisconsin State Fair has some of the most amazing fried foods! Fried cupcakes, fried oreos, fried s'mores, corndogs, elephant ears, fried vegetables, (you get the picture).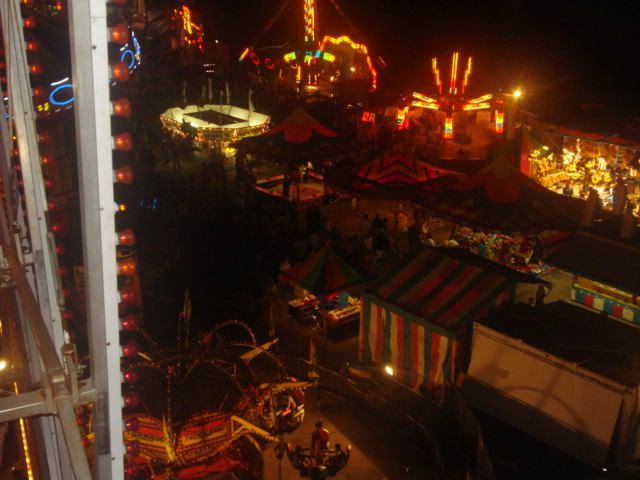 view of state fair as seen from ferris wheel
It's the one time of the year when I'll let myself pay 6 bucks each for a small sample of greasy desserts.
MY FAVORITE is the funnel cake. With strawberry sauce and, not just a sprinkle, but an avalanche of powered sugar. Mmhmm.
The Wisconsin State fair is usually around for about a week or so. So during the other 358 days of the year, I have to make my own funnel cakes. This recipe here, is by far the most friendly to me. I don't use a funnel but it's the best tasting and most simple. Enjoy!
Funnel Cakes
3 cups all purpose flour
3 eggs
2 cups milk
¼ cup sugar
2 tsp. baking powder
½ tsp. salt
powdered sugar (for topping)
vegetable oil (for deep frying - heat to 375°F)
Strong Ziploc baggie
1. Beat the eggs, then add the sugar and milk.
2. Sift 2 cups of flour, the salt, and the baking powder and add to the milk, sugar, and egg mixture.
3. Mix while adding more flour until the batter is smooth and not too thick.
4. Pour your batter into one corner of the plastic baggie and push all of the air out. Twist the top of the baggie to seal in the batter and tie it or hold it in place with your hand.
5. Using scissors, snip the corner of the baggie [about ¾ of an inch wide].
6. Gradually dispense the batter into the hot oil [but be careful as the oil may splash] using a swirling motion or criss-crossing back and forth over the batter to make a funnel cake.
7. Let it fry for about a minute (or less depending on how big your funnel cakes are). Check the bottom with a pair of tongs and turn it when the bottom is golden brown.
When both sides are golden brown, remove with tongs and set on paper towels.
8. Top with powdered sugar and fruit (see recipe below)!
Strawberry Topping
3 tbsp. sugar
1 tsp. cornstarch
1 tbsp. cold water
1 cup sliced strawberries (each)
12 oz. frozen strawberries (thawed)
1. Combine thawed strawberries and sugar in a blender. Cover and blend on high until smooth.
2. Press through a sieve to remove seeds. Place in small saucepan.
3. Mix cornstarch with cold water. Add to strawberry blend. Bring to a boil, stirring constantly.
4. Boil for one minute until thickened. Remove from heat and refrigerate one hour before serving.
5. Stir in fresh berries and serve over funnel cake.