The Melting Pot - Fondue Restaurant [A Review]
For Leap Year dinner tonight, we had to make it one of a kind. Something worth trying at least once every 4 years. The Melting Pot is a one of a kind restaurant specializing in fondue. They had a Leap Year Special going on today. A three course dinner for $44.00 (per couple). Their prices are usually much higher than that, averaging about $100-$200 per couple on their regular menu.
I've always wanted to try the fondue experience but never took the risk of busting our budget, so when I heard about the deal I jumped on it. Well, Chhally was the one who jumped on it. He made our reservations for us.
The tables had built in glass stove tops where the fondue pots are heated. Service here is impeccable!
Our server was really nice and helpful.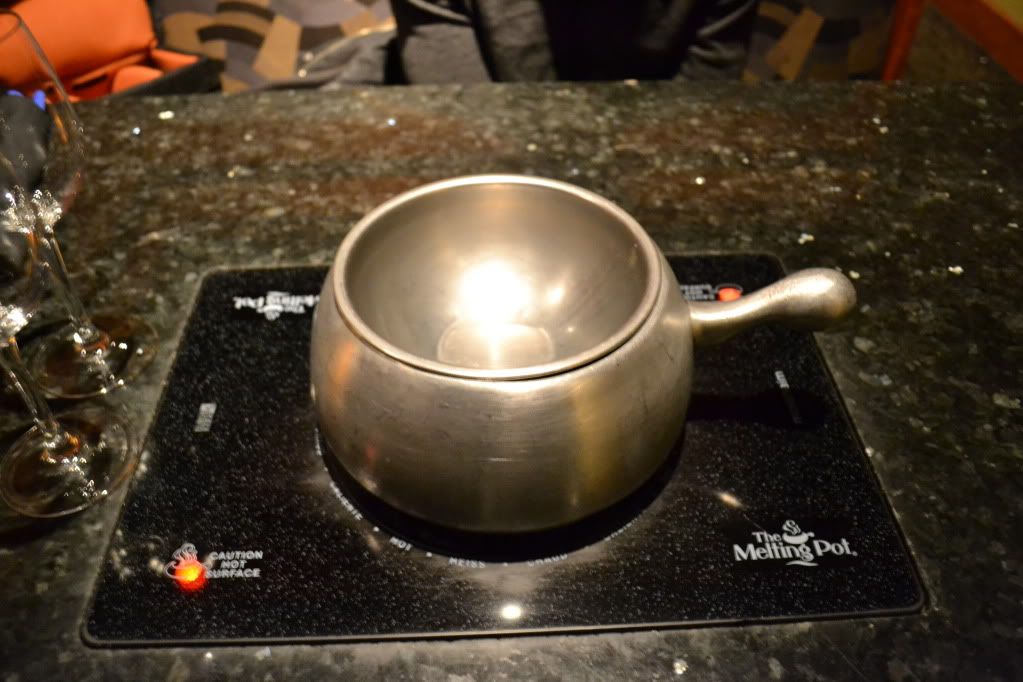 Our 3 course dinner consisted of Cheese Fondue, Salad, and the Entree. You get to choose between various Cheese Fondues and Salads. We chose the Spinach and Artichoke Cheese Fondue.
Our server came and mixed all of the fresh ingredients into the fondue pot. He stirred in broth, garlic, different cheeses, spinach, artichokes, and a dash of Tabasco sauce. I didn't know Spinach and Artichoke dip was that easy. And boy, was it good.
They gave us a variety of "dippings" : slices of different kinds of bread, tortilla chips, broccoli, cauliflower, carrots, and apples. The gooey cheese made learning how to fondue really fun.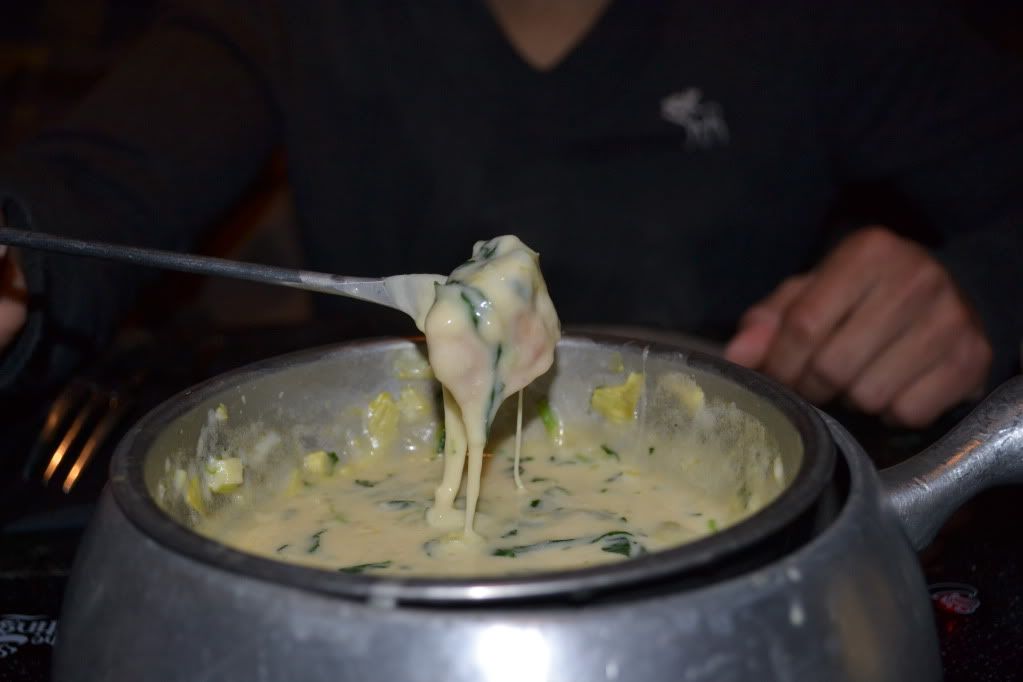 Then for the second course, we chose the House Salad with the Melting Pot's Sweet & Tangy House dressing. I've never seen such a beautifully presented salad before!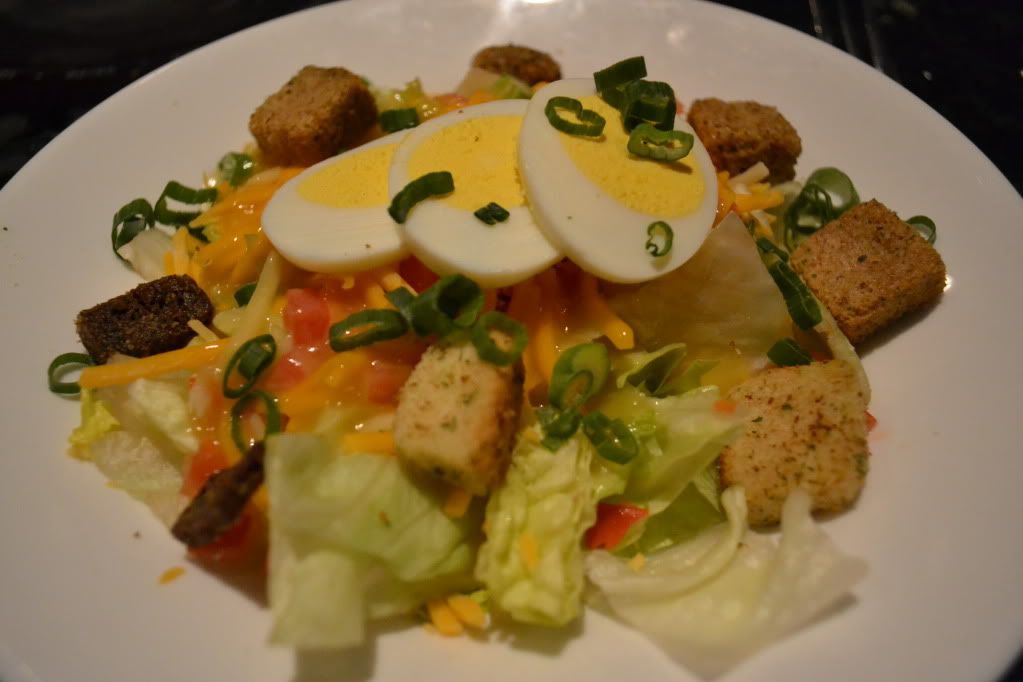 Their House Dressing is a must try! It's creamy yet light. Really smooth but tangy. Delicate and sweet. Chhally and I practically licked the dressing off the plates when we were done.
Next up, the main entree! You get to choose between four seasoning styles. French (Coq au vin), European, Mojo (cirtus-y and
Caribbean
flavors), and Vegetable
Bouillon (Vegetable broth).
We chose the Bouillon flavor. They switch up the melting pots with every course. After they cleared up our Cheese fondue pot, our server brought out a pot filled with broth, pieces of veggies, mixed in with some herbs and spices.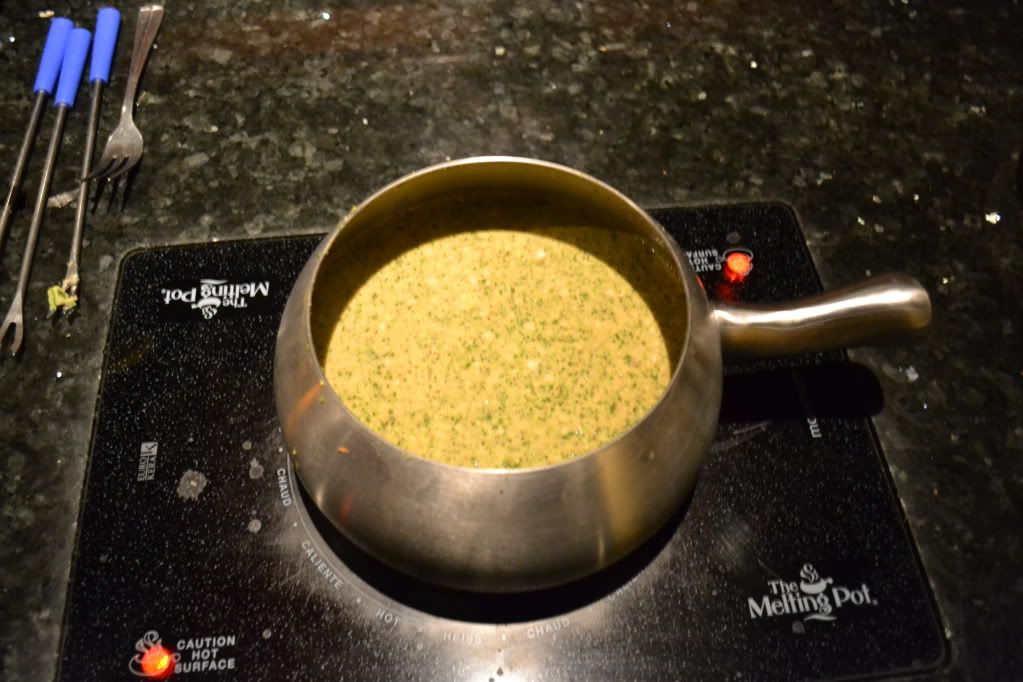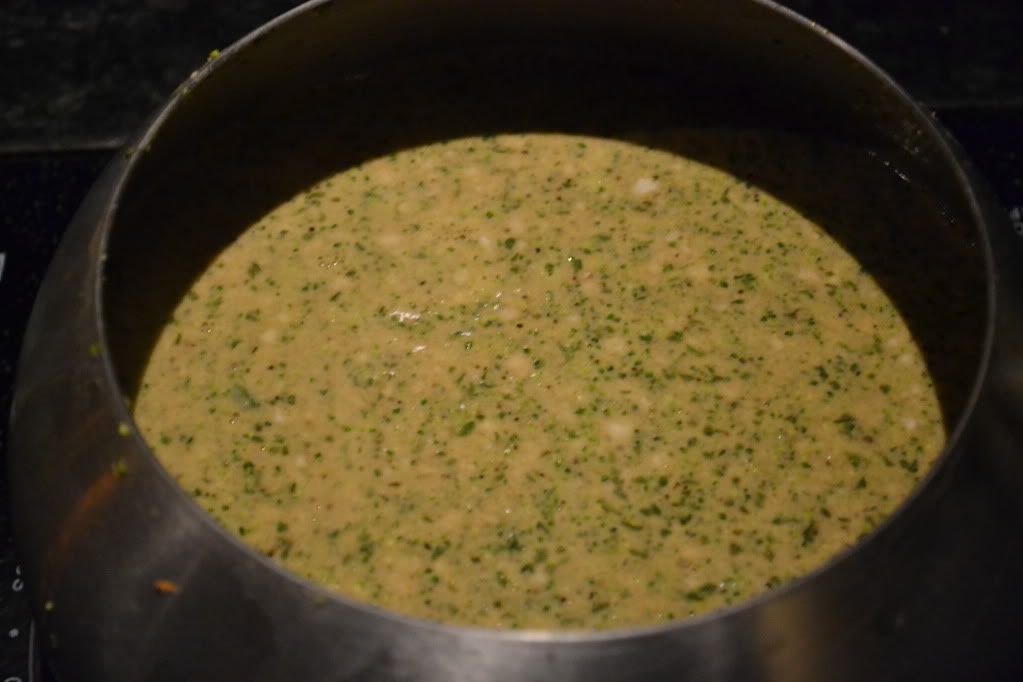 Once this pot started to simmer, our plate was placed on the table.
Teriyaki marinated sirloin, Artichoke and Spinach Ravioli, white shrimp, chicken, and fresh vegetables (mushrooms, broccoli, red potato wedges).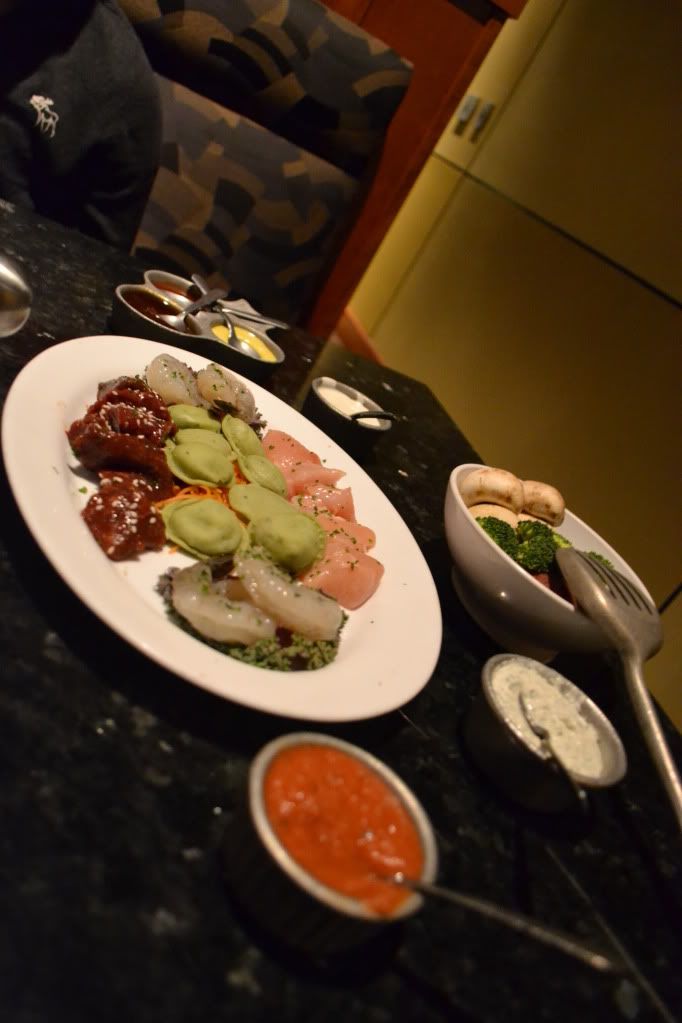 And then there were the sauces. Sweet and sour, Curry sauce, Teriyaki sauce, Cocktail sauce, horseradish sauce, and another one (I forgot what it's called.)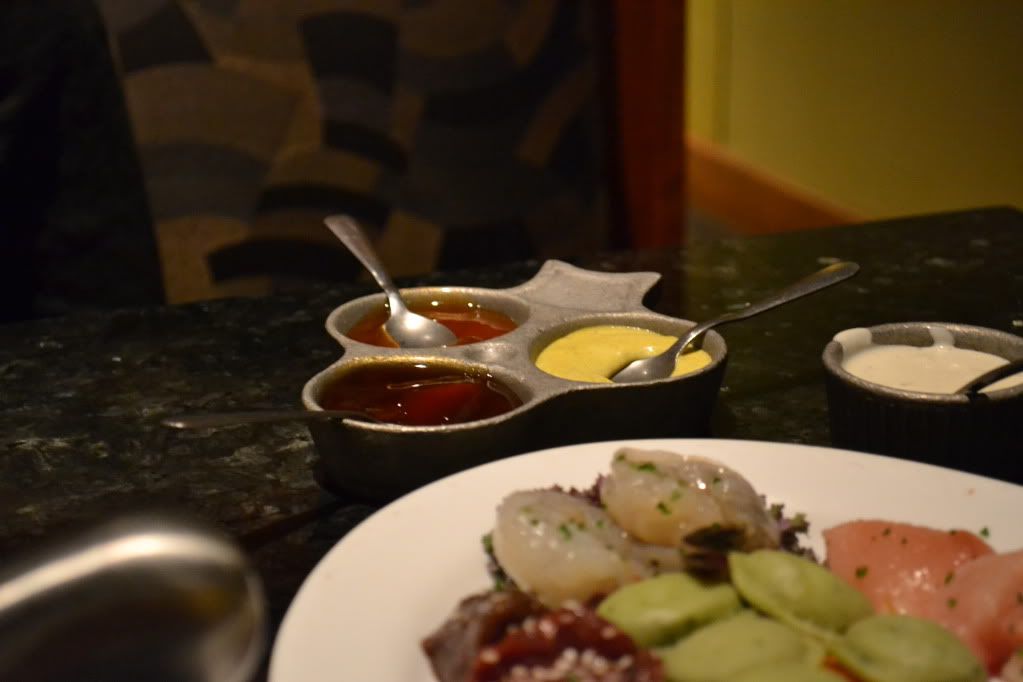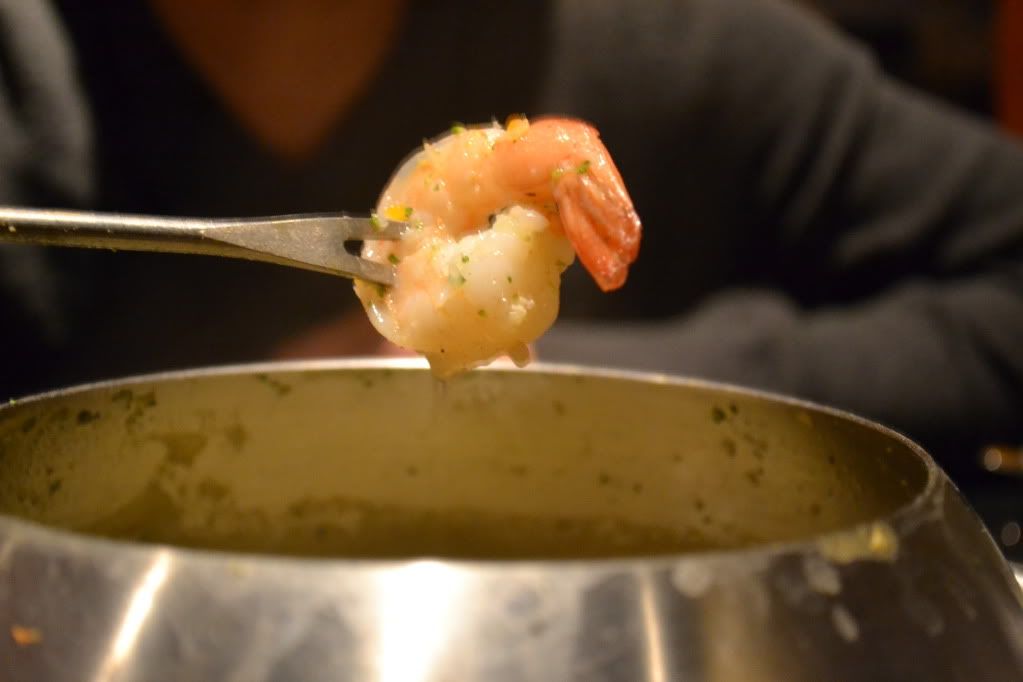 So good. A fun way to eat and cook your own food to your liking and at your pace. We spent a long time just hanging out and conversing while cooking our pieces of meat, seafood, and vegetables in the broth.
Dessert was not included in our special deal but it was only $15 extra. This is what fondue is famous for. Chocolate fondue! They have so many varieties to choose from; The Original (milk chocolate swirled with peanut butter), Bananas Foster (white chocolate swirled with bananas and a dash of cinnamon), Turtle (milk chocolate, caramel, and chopped pecans), Yin and Yang (Dark chocolate and white chocolate), Cookies and Cream Marshmallow Dream. We got the S'mores (Milk chocolate swirled with marshmallow cream topped with graham cracker pieces).
And
flambéed
! Fiery entertainment!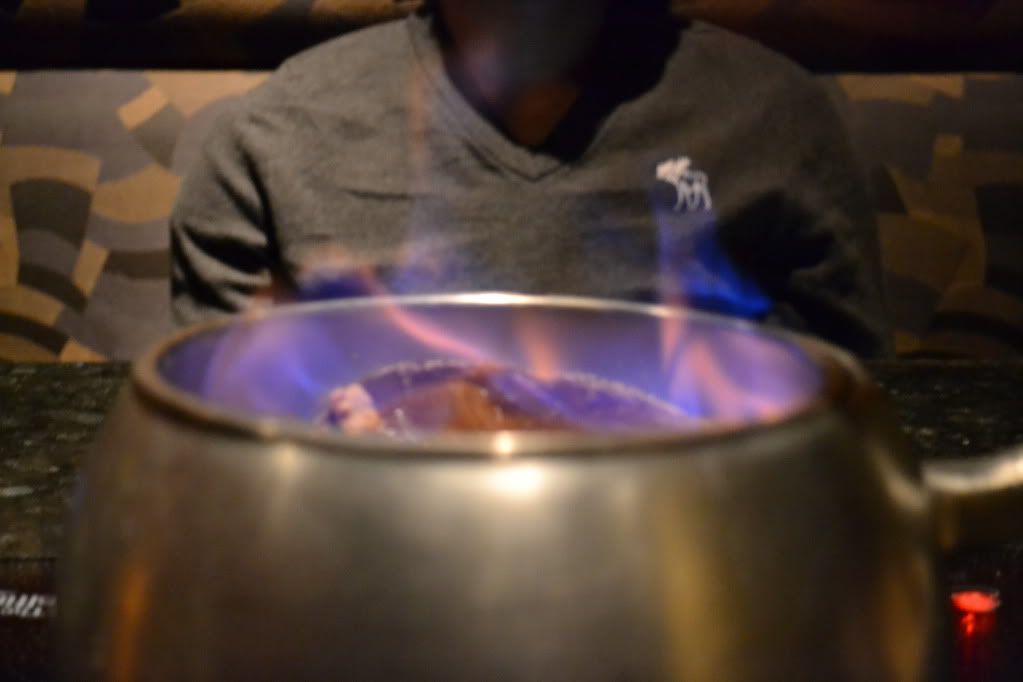 And our plate of dippers! YUM!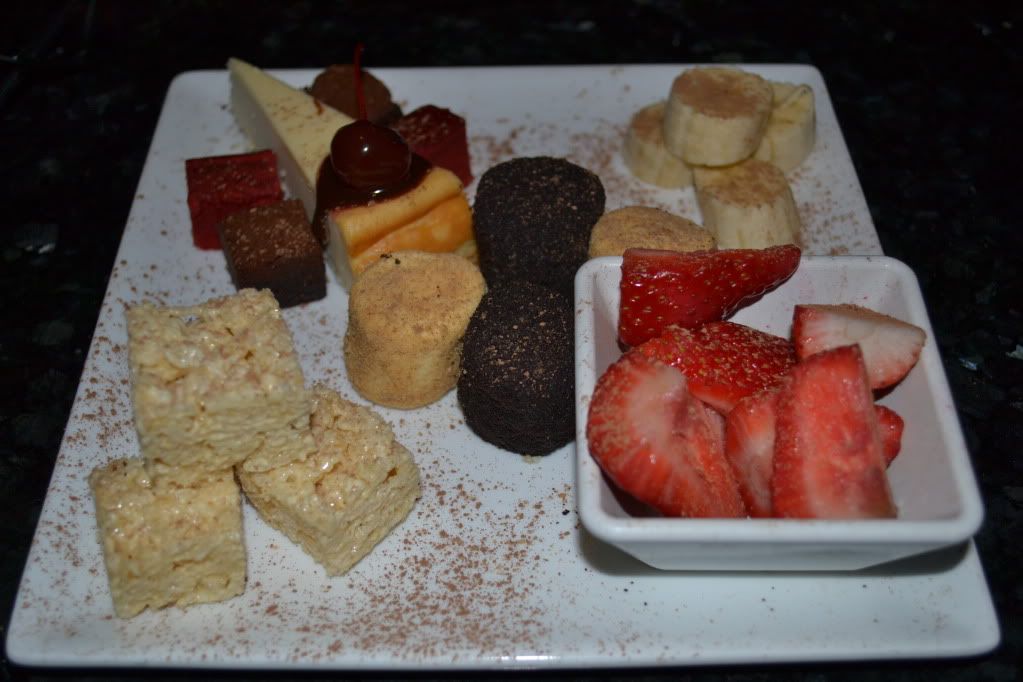 Rice Krispies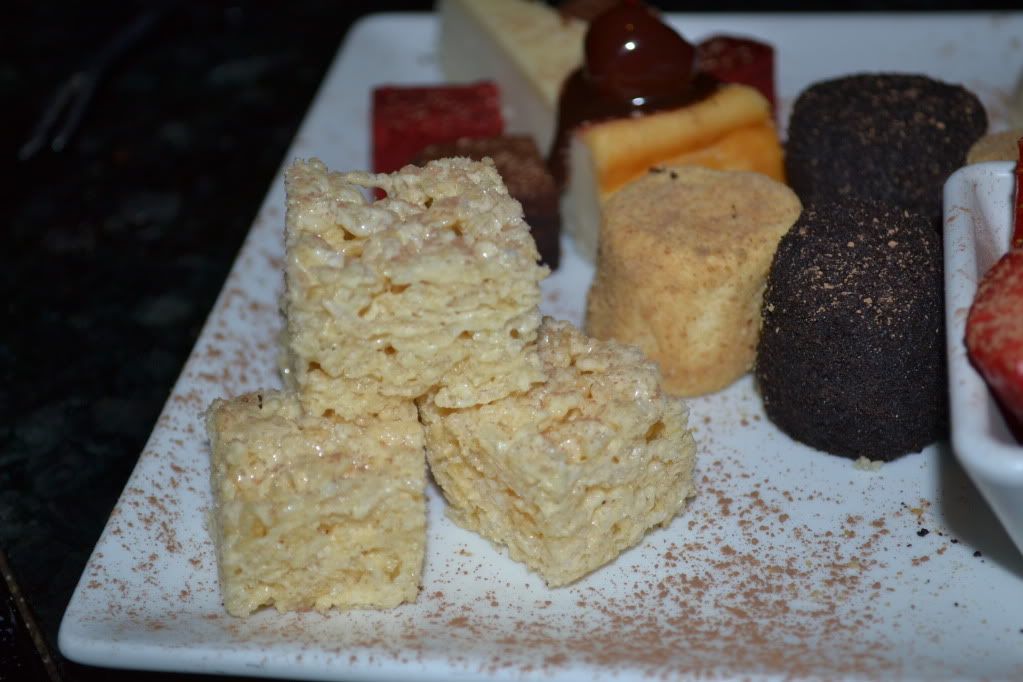 Cheesecake, brownie bites, and red velvet cake bites.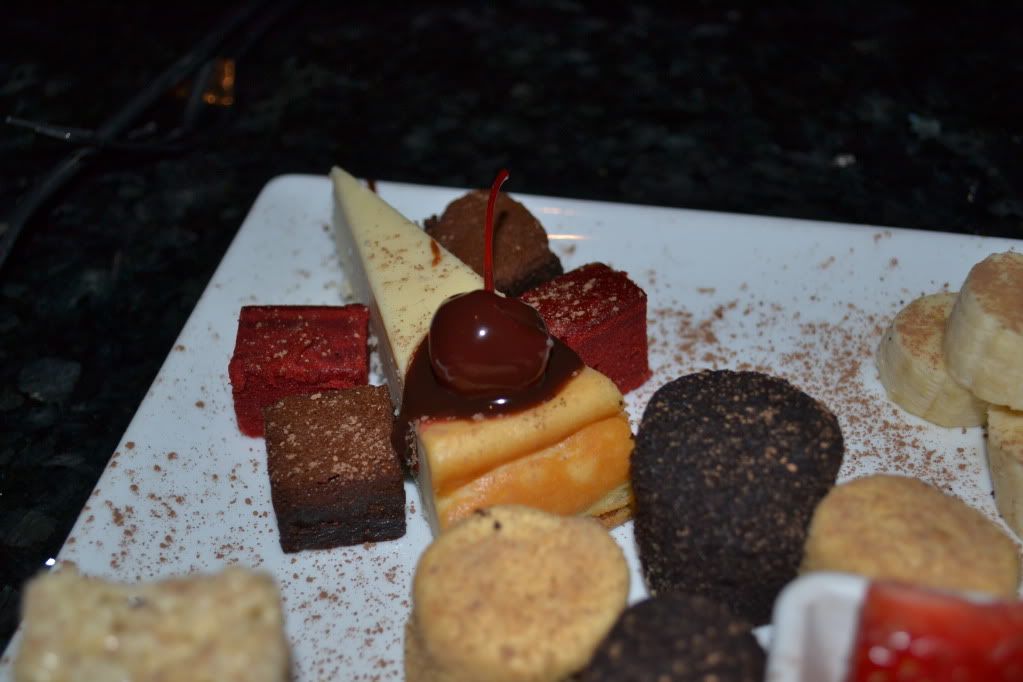 Fresh bananas, strawberries, marshmallows (the dark marshmallows are covered in oreo crumbs!)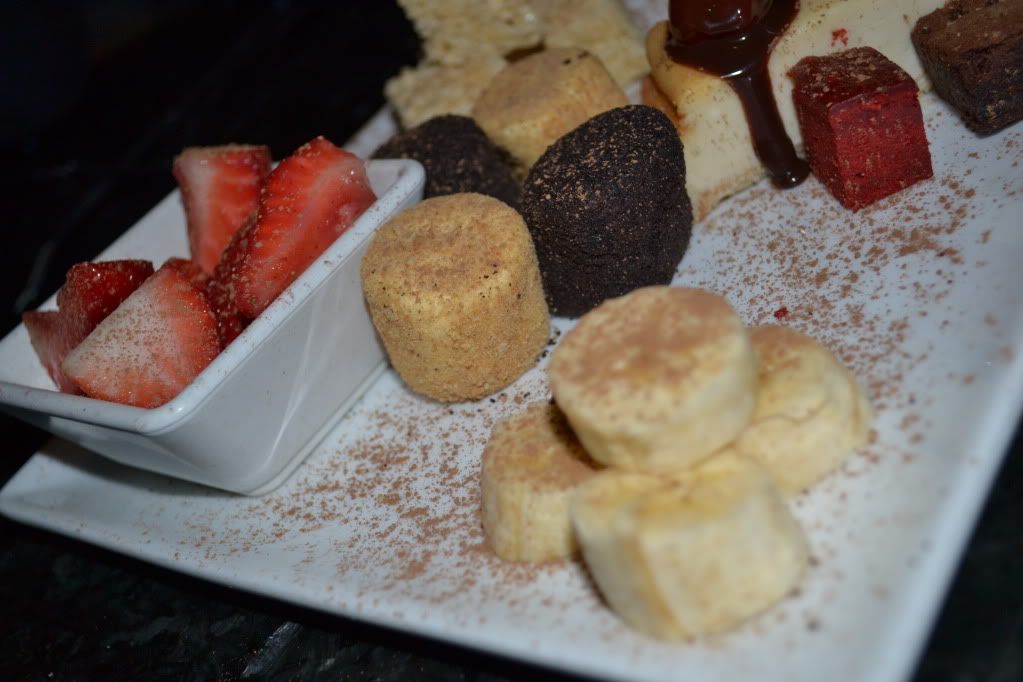 The first bites are the most warm and amazing. So many flavors with the chocolate, marshmallow cream, and crunchy pieces of graham crackers.
We thought we were so stuffed after the entree, but everyone has that extra pouch of space in their stomach for a huge plate of dessert! So very yummy and fun to eat. The Melting Pot definitely gets the Sugar Junkie seal of sweetness. Total bill for a three course meal with drinks and dessert: $66. Not including tip, this was not bad at ALL! Definitely locate your nearest Melting Pot restaurant and also check their website for specials and packages. I learned about the special we got today because I signed up as a Club Fondue Member. Members get special offers and deals before everyone else.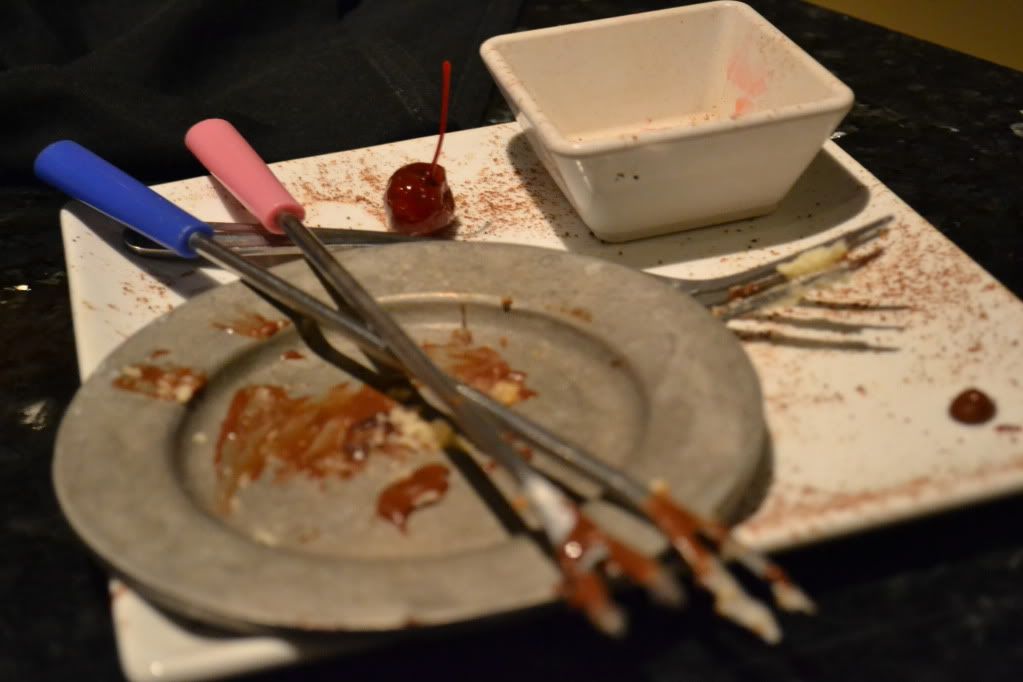 19850 W. Bluemound Road
Brookfield, WI 53045
(262) 782-6358
www.themeltingpot.com