Lao Style Ribs or Thai Style Ribs
I started having random cravings for Laotian food and I remember these Laotian style ribs that my grandma and my mom used to make for family dinners when I was younger. I tried to search for a recipe for them and I cannot find this recipe anywhere on the worldwide internet. There are many variations to it but none seemed to actually be the same ones my mom and grandma used to make. All I knew is that they were marinated for hours, broiled in the oven, juicy (not saucy) and chewy. I asked my mom how to make them and all she could tell me were the ingredients. Today, after gathering all the ingredients, I asked her:
My mom is new to texting so I have to keep it pretty simple, lol! Asian mothers never know quantities or measurements to anything they make! They always know exactly how much of each ingredient to put to make it perfect. Or they measure it by pouring it onto their palms. This doesn't help us, the younger generation, who are trying to preserve these family recipes!
So here I was with the correct ingredients but I had to take a shot in the dark in trying to get the amounts right. I recalled my family's
Asian chicken wings recipe
and how everything was measured in 2 tablespoons, so I decided 2 tablespoons of soy sauce and oyster sauce might do the trick. Then, er, maybe 1 tablespoon of sugar and garlic. I covered with cling wrap and let them marinate for about 3 hours in the fridge. Most anxious 3 hours ever! I was nervous on how they would turn out.
I then arranged them on a baking sheet and placed them under the broiler at 450 degrees for 30 minutes (time depends on how large your ribs are). I watched them carefully to make sure they didn't burn because the sugar in the marinade can cause it to burn easily, but if cooked slowly at the right temp it caramelizes into a nice crust. They kind of started to burn at the tips so I turned the broiler down to 435 and flipped them halfway through.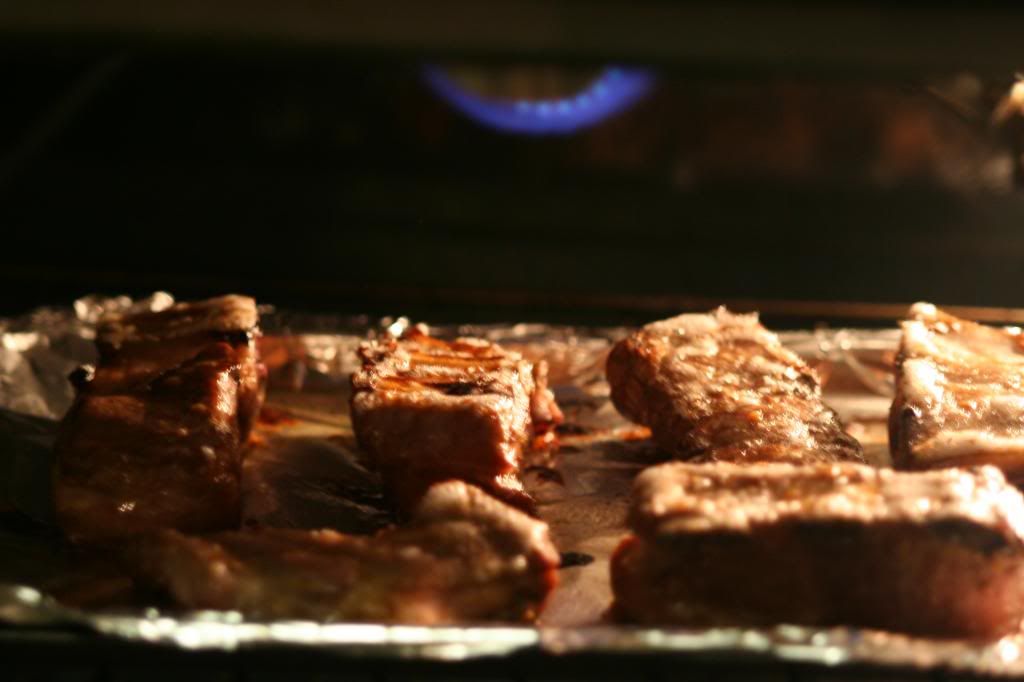 I also got myself some Papaya Salad from the Asian store over here where they make fresh batches to order and was cooking up some Jasmine rice in my rice cooker. Within 5 minutes of putting the ribs in the oven, getting the rice cooking, and popping open my container of papaya salad; my house was smelling like how my childhood home would smell when grandma and mom were cooking a traditional Laotian/Thai dinner for the family. I remember we would eat on the floor of our carpeted dining room on an Asian fold-out table. Sticky rice served in the traditional rice baskets were always placed on the table first.
They turned out perfect! Exactly the way I remembered. I will definitely be saving this recipe in my recipe binder. My mom and grandma would be proud. =) My mom liked to slice the boneless ribs into smaller bits like how they are pictured below, but we always left the rest of the pieces whole.
Ingredients:
2 tbsp soy sauce
2 tbsp oyster sauce
1 tbsp sugar
1 tbsp minced garlic
1/2 tsp black pepper
1/4 tsp salt
2 lbs. baby back pork ribs
Combine the soy sauce, oyster sauce, sugar, minced garlic, salt, and pepper in a mixing bowl.
Cut the rib racks in half and place into the mixing bowl with the marinade. Cover with plastic wrap and marinate for 3 hours in the fridge.
Set the broiler to 435 degrees. Arrange ribs on a baking sheet and place under broiler for 30 minutes. Make sure to flip them halfway.
When ribs are cooked through, remove from oven and let the ribs sit for 5 minutes. Slice the ribs in between the bones and serve with white rice.
Happy eating!