Layered Sushi Bowls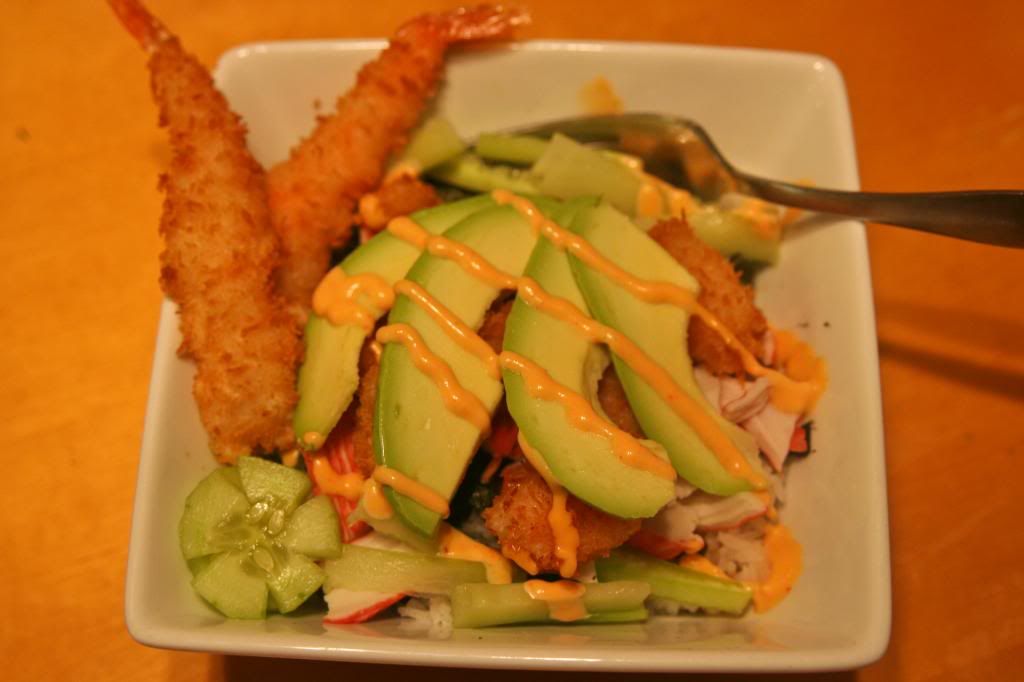 We made these layered sushi bowls for dinner last night and they were a success! The amazing taste of sushi but without the expensive bill and the time spent rolling the rolls. I was able to buy all of the ingredients for $25! The ingredients were enough to make 6 sushi bowls.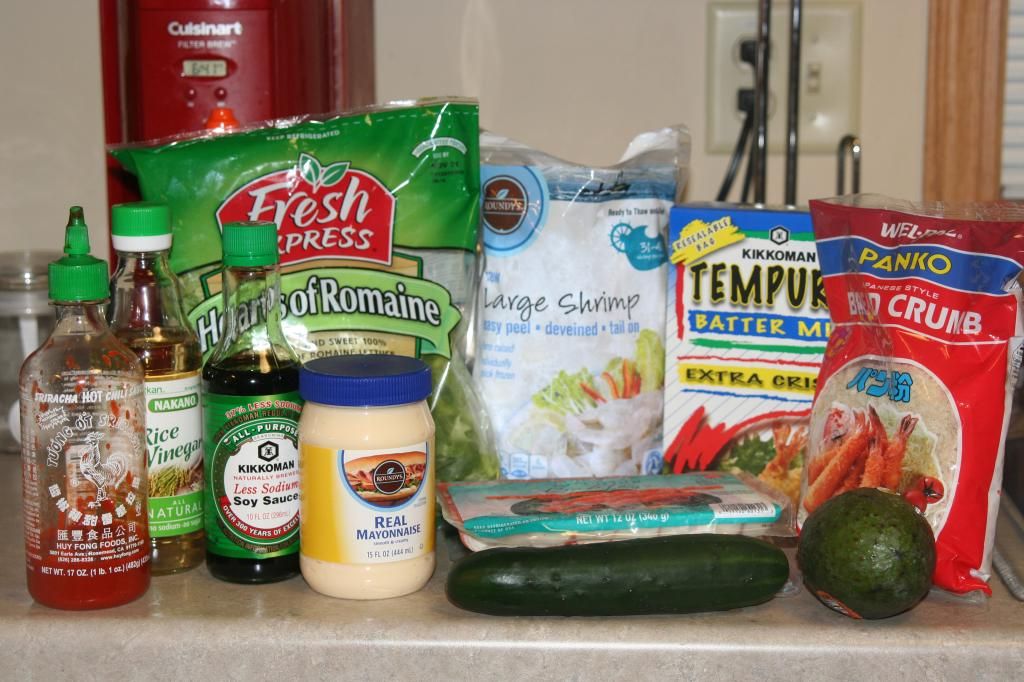 These are the ingredients we used and were based off of the sushi rolls that we would eat at our favorite sushi restaurant. You can use any seafood and vegetable combinations that would normally be featured in YOUR favorite sushi rolls. Most ingredients can be found in the Asian aisle at most grocery stores.
White rice
Raw Shrimp, deveined and prepped for frying
Imitation crab meat flakes
Tempura batter and tempura flakes
cucumber
avocado
soy sauce
Sriracha Sauce
Real Mayonnaise
Nori (Seaweed paper used for sushi rolls), cut into small strips
Sesame seeds, for garnish
Cook your white rice, (as much or as little as you'd like). We used 1 cup per bowl.
Thaw your shrimp and crab meat. There are two ways to prep the shrimp. The easiest way to fry the shrimp is to remove the whole shell and tail, batter them, and fry them. If you are most comfortable doing it this way, or just short on time, I highly suggest it. The taste is just the same! In most Japanese restaurants, they prep the shrimp by removing the shell but leaving the tail on. And then they score the shrimp to loosen the muscle and straighten the shrimp, doubling it in length, so that it fries straight!
Heat your frying oil. Prepare the tempura batter according to the directions on the box. The shrimp has to be coated in the batter and then covered in the crunchy tempura flakes. Then deep fried for about 2 minutes.
Slice your vegetables into bite sized pieces. We cut our cucumber into 1 inch strips and flower coins.
The seaweed paper has to be cut with scissors into small strips. 1 seaweed paper was enough for 3 bowls.
To create the Spicy Mayo sauce, combine the about 4 tbsp of mayo with 1.5 tbsp of sriracha sauce. Add more Sriracha to your liking or more mayo if it is too spicy for you!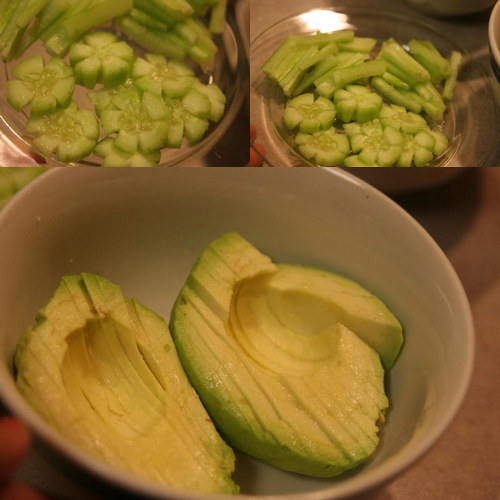 Layering:
To assemble our bowls, we put rice on the bottom. Drizzled with soy sauce.
Then we sprinkled it with the nori strips and sesame seeds.
Add the seafood. Then the vegetables. Finish drizzling with spicy mayo!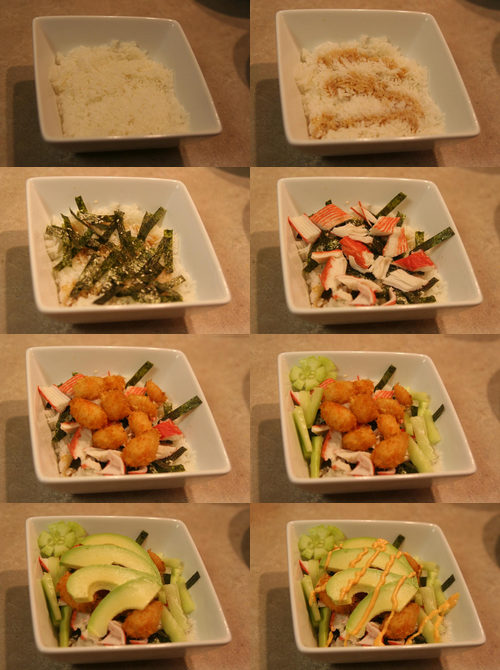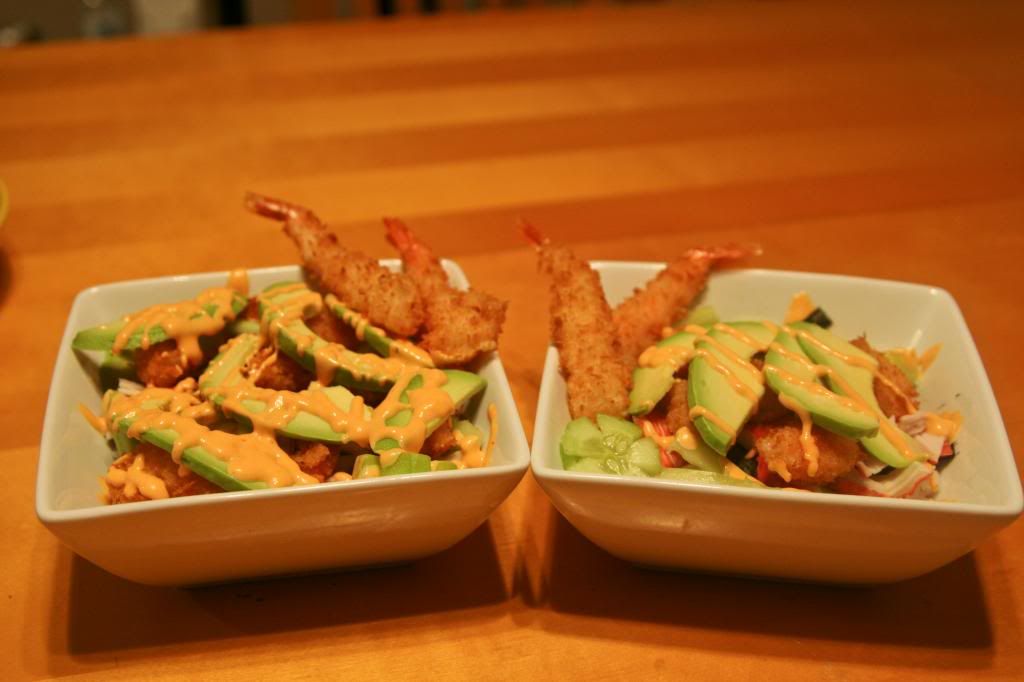 You can totally tell which one is Chhally's and which is mine.
This recipe is quick, easy, and definitely a keeper. Requires little cooking (c'mon, deep frying is easy) and easy prep (pretty much chopping veggies) so you can satisfy your sushi cravings without even leaving home. Tastes just as good the next day, too! Leftovers can be refrigerated and eaten cold for lunch the next day.
Happy Eating!
-TSJ