Rosemary + Garlic Pork (5 Ingredients)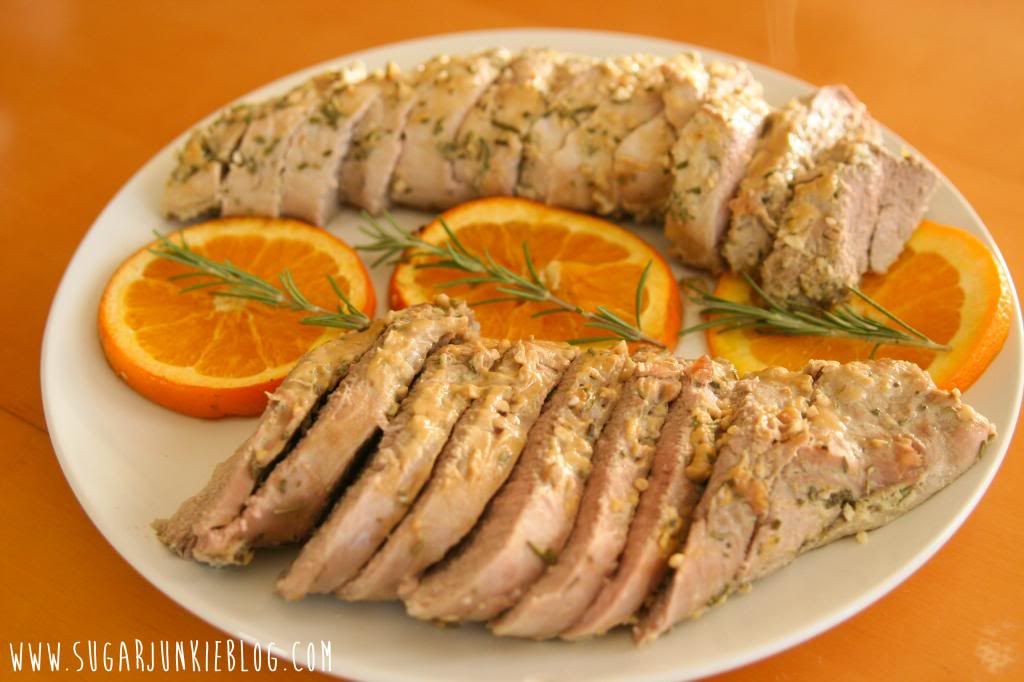 I am beaming at how amazing this meal turned out. If you are not a fan of pork or have trouble cooking your pork, this is it. This is the recipe that will make it all better. The pork was so flavorful and juicy, much similar to the consistency of a good steak or roasted chicken. It wasn't dry or grey; it was amazing!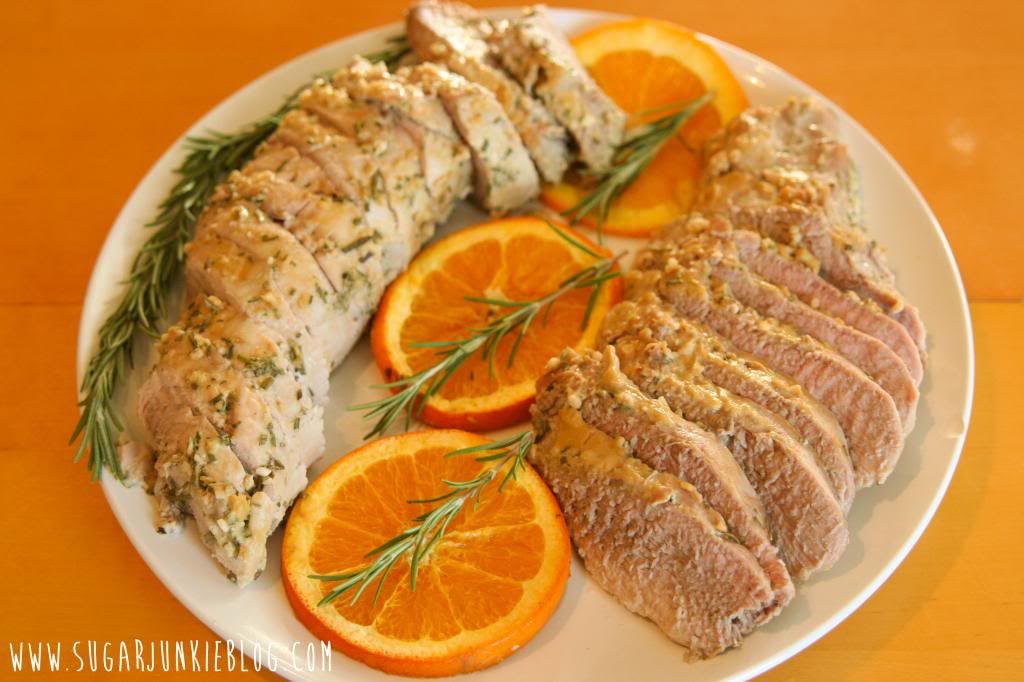 First step, marinating the meat. I absolutely love marinating in Ziploc bags. I always used to place everything in a mixing bowl covered in plastic wrap or an aluminum tray. Gallon size Ziploc bags are worth the convenience! There's no need for mixing spoons or whisks when you can shake the bag up. And massaging the marinade into the meat before and after refrigeration is an effective way to infuse the flavor.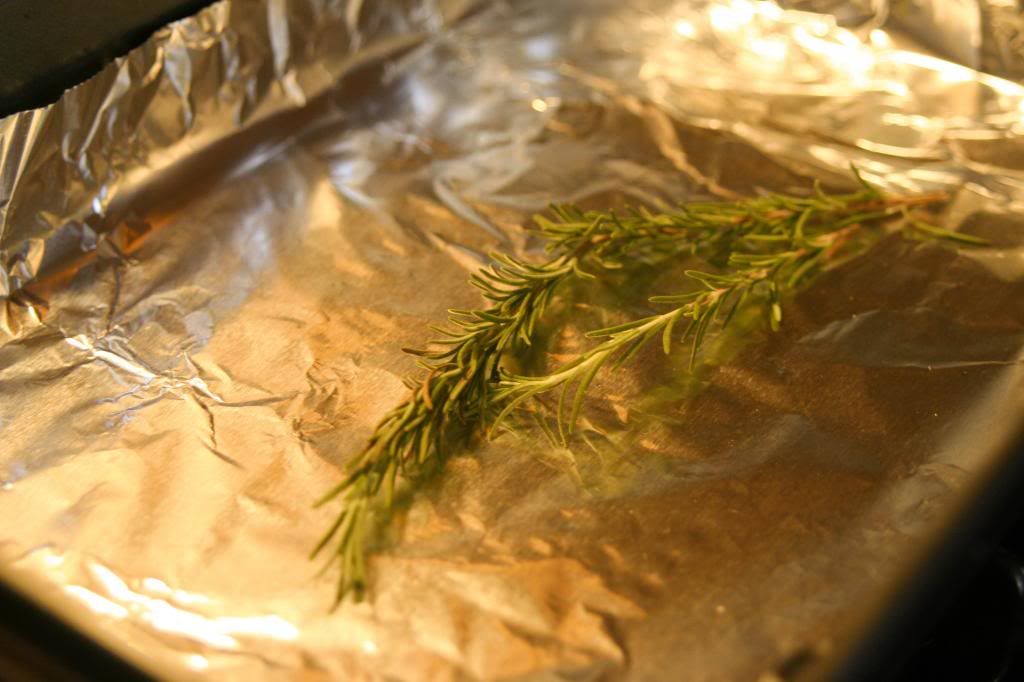 Before and After
The trick is to cook it until it's medium (yes, you will see pink when you take it out, but it's okay!) and then let it rest for 5-8 minutes under an aluminum foil tent. This will let the juices settle into the pork and allow the tenderloin to cook the rest of the way gently to a perfect medium-well.
While the pork rested on the cutting board, I sauteed some diced onions, minced garlic, and pre-cooked bacon pieces in olive oil. This has become my new base for sauteing vegetables. I rinsed some frozen green beans and added it to the saute pan. Then I piled on an entire bag of spinach.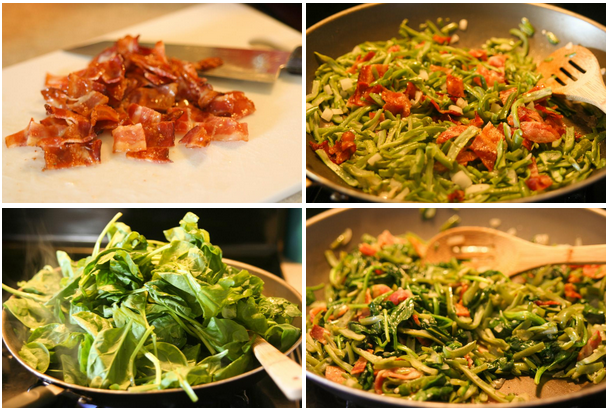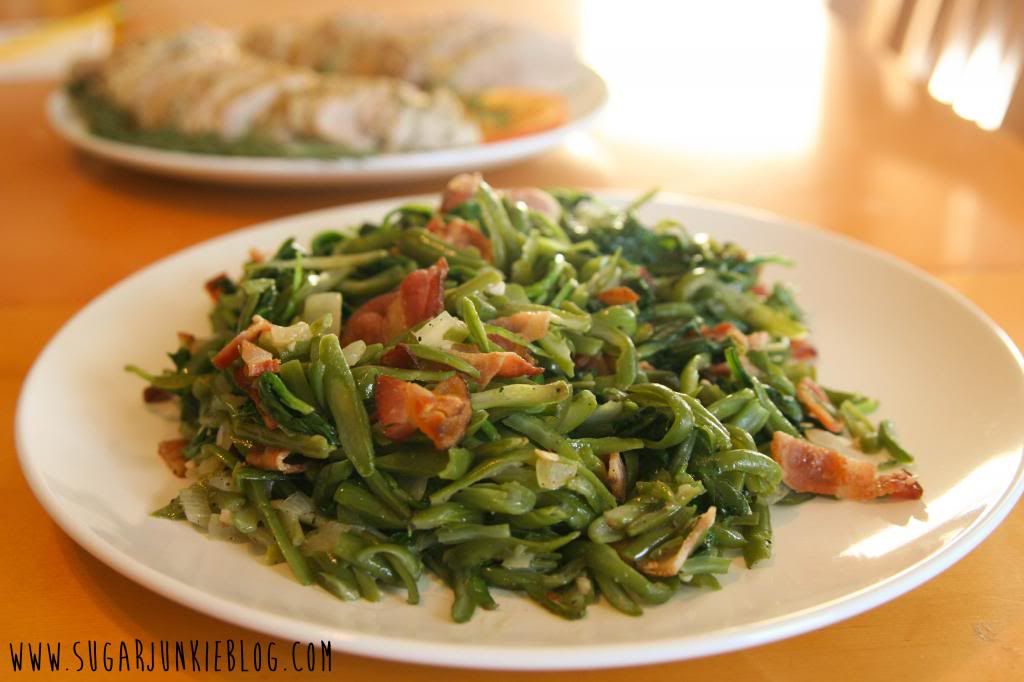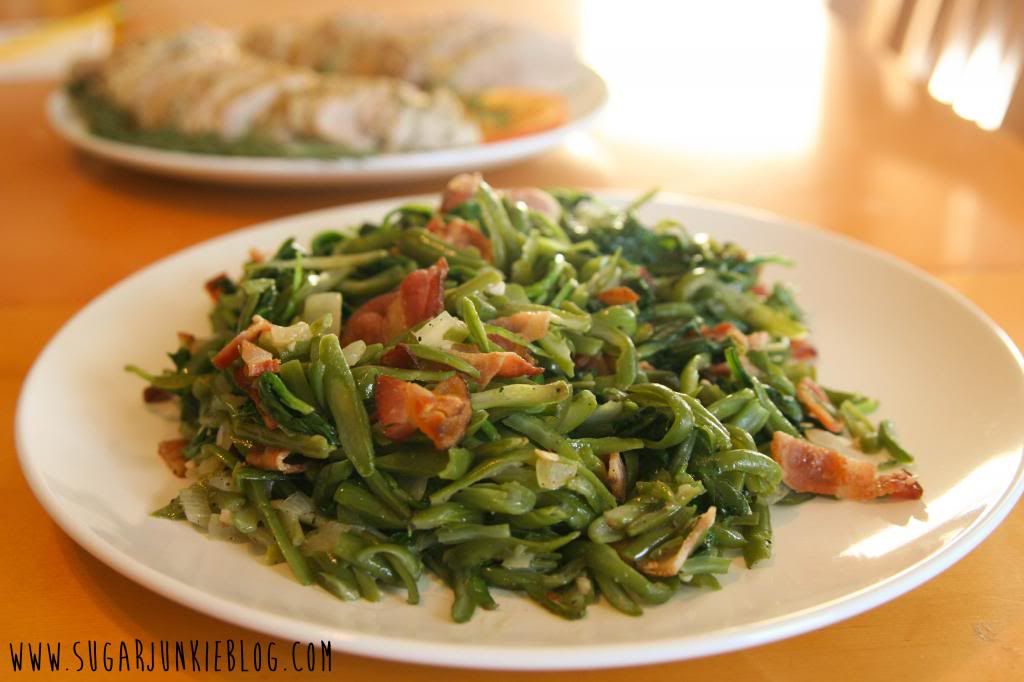 We garnished the Rosemary + Garlic Pork with more rosemary stems and the orange slices I cooked them with. The meal was completed with the Sauteed Green Beans + Spinach as a side and served with fresh rice pilaf. The greens surprisingly got more compliments than the pork. Here's how to make it:
1/3 cup Dijon mustard
1 tbsp black pepper
1 tbsp freshly chopped rosemary leaves, plus 4 sprigs of rosemary
3 garlic cloves, minced
2 pork tenderloins, about 1 lb each
1 orange, sliced into circles
In a gallon sized Ziploc bag, add together the Dijon mustard, black pepper, chopped rosemary, and minced garlic.
Place the pork tenderloins into the bag with the mixture and seal. Coat the meat evenly and generously, then marinate in the fridge for 1 hour.
Preheat oven to 375 degrees F.
Place rosemary sprigs and a few orange slices in the center of a roasting pan. Remove the pork from the plastic bag and place the tenderloins in the roasting pan.
Bake for 25 to 30 minutes or until a meat thermometer reads 160 degrees F. Remove from oven when desired wellness is reached and let sit for 5 to 10 minutes on a cutting board covered with an aluminum foil tent.
Slice and serve with your favorite side. Garnish with rosemary sprigs and orange slices.
- Happy Eating!