I've been experimenting with this recipe for a long time! The first time i made it, it was too orangey. Second time, there was too much soy sauceness. Third time, very vinegar-y.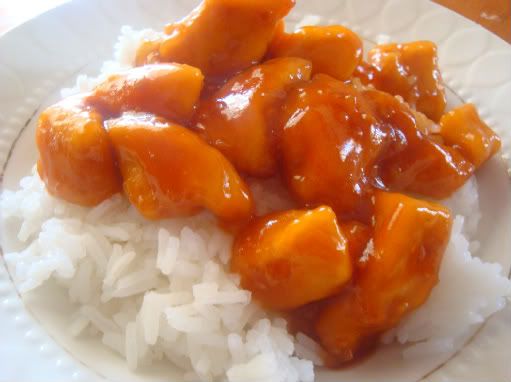 I hope this one turns out well for you guys, should you try to make it! The measurements are accurate to the best of my knowledge. If not feel free to let me know what went wrong and I can help! And YES, this counts as sugarjunkie food because it does contain SUGAR!!
INGREDIENTS:
1.5 lbs boneless, skinless, chicken breasts cut into 1inch chunks.
SAUCE:
2/3 cup low sodium chicken broth
2/3 cup oj
1/2 tsp orange zest plus 2 two inch strips of orange peel
4 tbsp white vinegar [ or less for a simpler, less powerful flavor ]
3 tbsp soy sauce
6 tbsp packed brown sugar
2 cloves garlic, minced
half inch piece of fresh ginger, grated
pinch of cayenne pepper
1 tbsp + 2 tsp cornstarch
2 tbsp cold water
1 tsp dried chili flakes or 1-2 whole dried chilis (optional)
1. Combine broth, oj, orange zest, vinegar, soy sauce, brown sugar, garlic, ginger, and cayenne pepper in medium saucepan. whisk until sugar is fully dissolved.
2. Bring to a boil over medium-high heat.
3. In a small bowl, stir together cornstarch and water. Whisk cornstarch mixture into sauce. Simmer sauce until thick and translucent, stirring occasionally. About 1 minute.
4. Remove from heat, stir in orange peels and chili flakes. Set aside.
COATING:
1 cup cornstarch
1/4 tsp cayenne pepper
oil for pan frying
1. Stir cornstarch and cayenne together and coat the chicken thoroughly.
2. Heat 2 tbsp oil in 10-inch nonstick skillet over med-high heat, rotating skillet until oil covers the bottom.
3. Carefully add chicken to hot oil, cook about 7-8 minutes until it is fully cooked and is no longer pink. The chicken should be golden brown.
4. Stir in whole dried chilis (optional)
5. When chicken is fully cooked, reduce heat to medium and add the sauce. Gently toss so the chicken is evenly coated and remove the orange peels.
Serve over white rice and vegetables.
But
, if you want HOMEMADE orange chicken
without
all of the work and having to get all of the ingredients - i definitely recommend trying
Wanchai Ferry's Orange Chicken
Dinner Kit. All of the ingredients are in this box, including the rice and chilis, for only $5.00 at your local grocery store!!