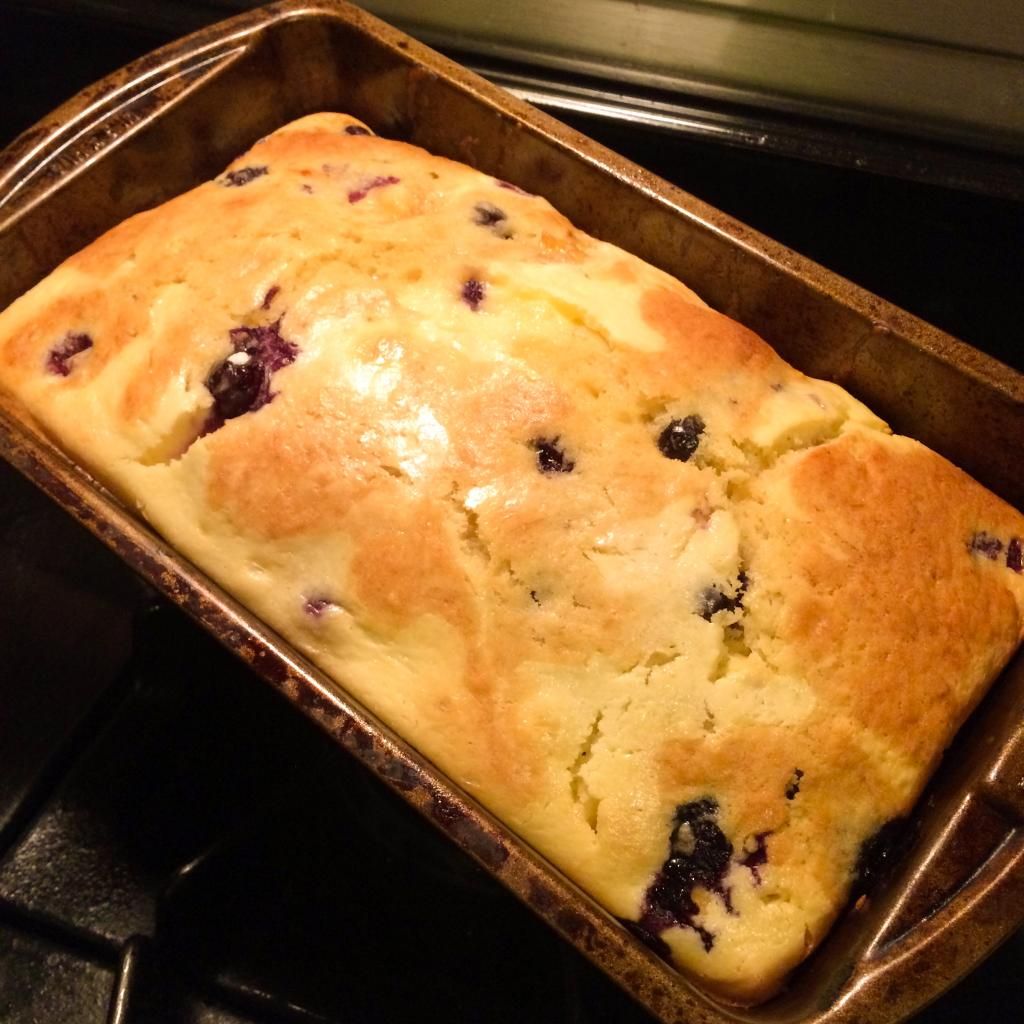 So the problem that I have with baking breads is that sometimes they can be on the dry side. For this recipe, I cheated. Blueberry Banana bread, Banana bread, Blueberry bread; NONE OF IT WILL EVER BE THE SAME. How?
I took a chunk of cream cheese out of the fridge and mixed it in. Okay, I didn't just mix it in, I made a cream cheese filling out of it. I know. It's so bad for you. But so good at the same time. I think this would be the idea behind, "Hey, I wonder what would happen if some blueberry bread and a cheesecake had a baby?"
Basically, here's your bread batter.
And then we have your bread batter with its partner in crime, the cream cheese batter.


The result is some seriously effin good bread with that cream cheese sauce keeping the bread soft and fluffy but packed with flavor. Starbucks better holla at me. This rivals even their bread loafs! Maybe.


Gloriousness in a recipe below.
Blueberry Banana Bread
Ingredients
FOR THE BREAD:
1/2 cups butter (1 stick, softened)
3/4 cups sugar
1/4 tsp salt
1 tsp vanilla extract
2 eggs
1 1/2 cup all-purpose flour
2 tsp baking powder
1/3 cups milk
1 banana, ripened
1 cup blueberries
1 tbsp all-purpose flour
FOR THE CREAM CHEESE FILLING:
8 oz cream cheese, softened
1/2 cups sugar
1 tablespoon flour
1 egg
Instructions
Preheat oven to 350 degrees F. Grease one large loaf pan or four mini loaf pans. Set aside.
In a medium mixing bowl, cream together the ingredients for filling. Set filling aside.
In a separate large mixing bowl, cream together butter and sugar until light and fluffy (about 3-4 minutes). Add salt and vanilla extract. Add eggs, one at a time, beating well after each addition.
In a separate bowl, whisk together flour and baking powder. Fold in half of dry ingredients into butter-sugar mixture.
Add milk, then the remainder of dry ingredients.
Fold in banana. Toss blueberries in tablespoon of flour and fold into batter. Your batter will be thick.
Spread half of batter into the bottom of prepared loaf pan(s). Using a spatula, spread cream cheese filling on top. Spread the remainder of batter over cream cheese and bake in preheated oven for 30-35 minutes (for mini loaf pans) or 45-50 minutes (for large loaf pan).
Allow to cool in pan for at least 20 minutes before removing.
Happy Baking!
Vicky