Antigua Latin Restaurant (Review)
Since we've moved to the West Allis area of Milwaukee, we've been pretty excited to try the different restaurants in this area. Antigua is literally three blocks away from our place, so after reading some online reviews (which said this place was amazing and cozy) we decided to go!

I am so glad we picked this place. I am a huge fan of Latin culture and their menu explores almost every Latin flavor there is. From Mexico, to Cuba, Argentina, Spain, El Salvador, and even Peruvian flavors! And then, on top of all of that, they have their own house creations that combines a little bit of everything. The one thing that I have been dying to try is Paella de Mariscos. A seafood rice dish cooked in a traditional Spaniard pan and seasoned with saffron. I learned about this dish when I studied Spanish in high school, haha.

The many reviews I read also talked about this dish. So you know I had to! Plus, it combines every kind of seafood I looove. Lobster, Shrimp, Mussels, huge chunks of perfectly cooked fish. (ps. Enjoy my Instagram photography!)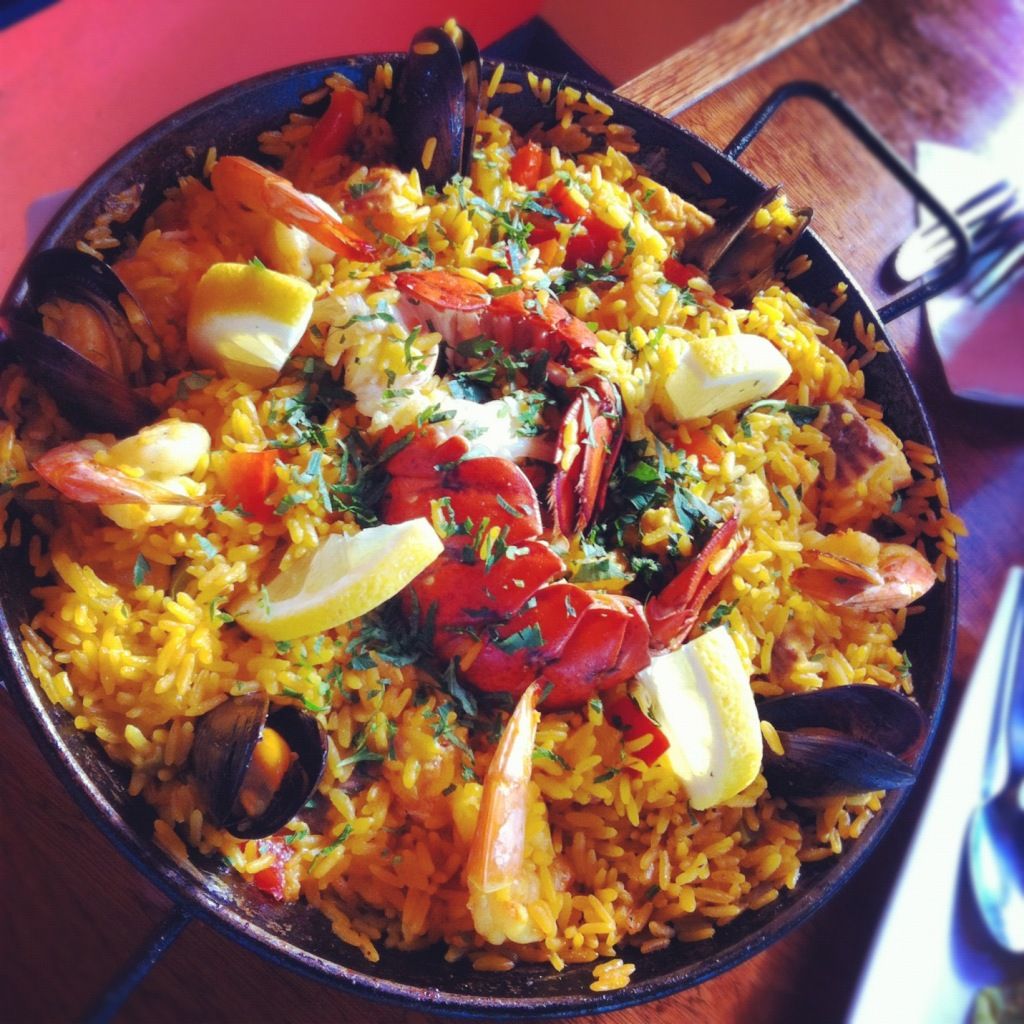 It. Was. AMAZING! I inhaled this dish. I could not stop. Even now as I type this, I'm contemplating how I'm going to convince Chhally to go with me tomorrow to eat it again. But most likely, I won't need to do much convincing. This is the jist of everything Chhally had to say throughout dinner, "Damn. Damn. This is so good. *chew chew chew* Mmmm. This is GOOD, babe. Babe. This is good, did you try the mussel? *nom noms* SO good."

But let us not steal the show away from the other items we had at Antigua. Like the free appetizer plate!
With samples of Cheesy Potato Fritters, Pork and Cheese Empanadas, and slices of.. what did she say? MANGO QUESADILLAS! Yes, you heard right.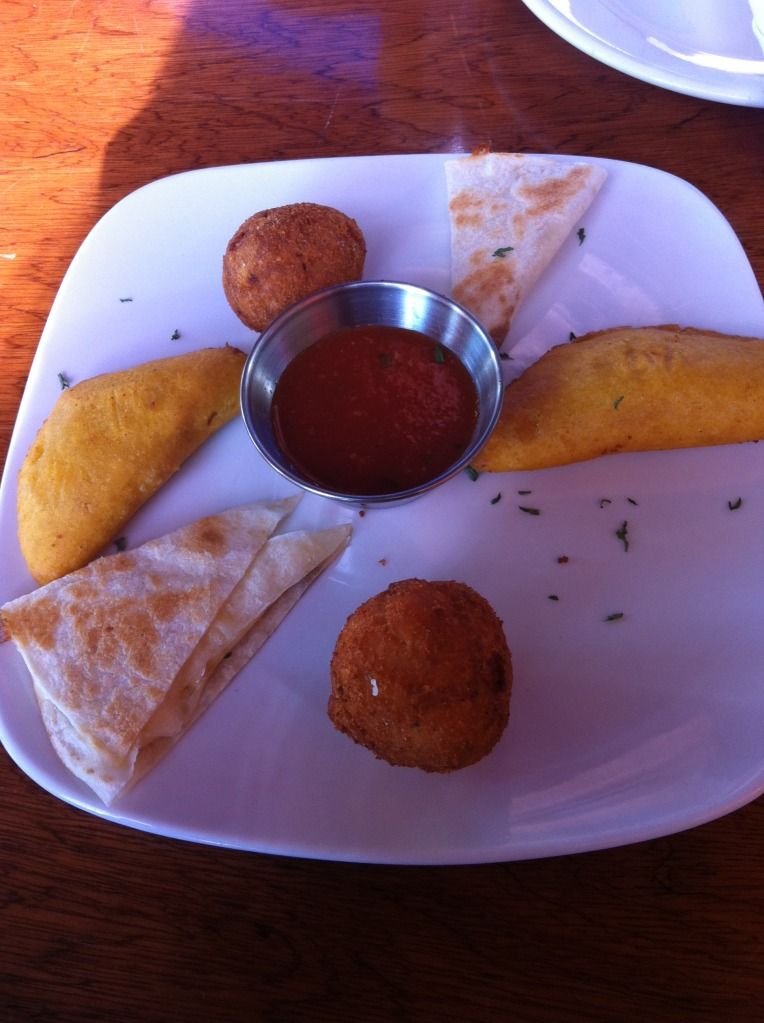 We also ordered the guacamole. Beautifully plated and presented, came with a basket full of super crunchy home-made chips. This guacamole was
reeeally
fresh. It was mashed perfectly with just the right amount of onions, tomatoes, salt, and cilantro. What I loved most about it is that they left some of the avocado still chunky, so you get that really refreshing avocado taste and texture instead of just mush.
They also have a huge variety of drinks. Both alcoholic and non-alcoholic. The ones that caught my eye are their whole list of different Margaritas! A Latin must-have. And their Pomegranate Mojito! Doesn't that just sound lovely. I didn't get to try any of these this time, but next time for sure. Instead, we ordered Strawberry Iced Tea and Mango Iced Tea. Made by hand and shaken with ice. =)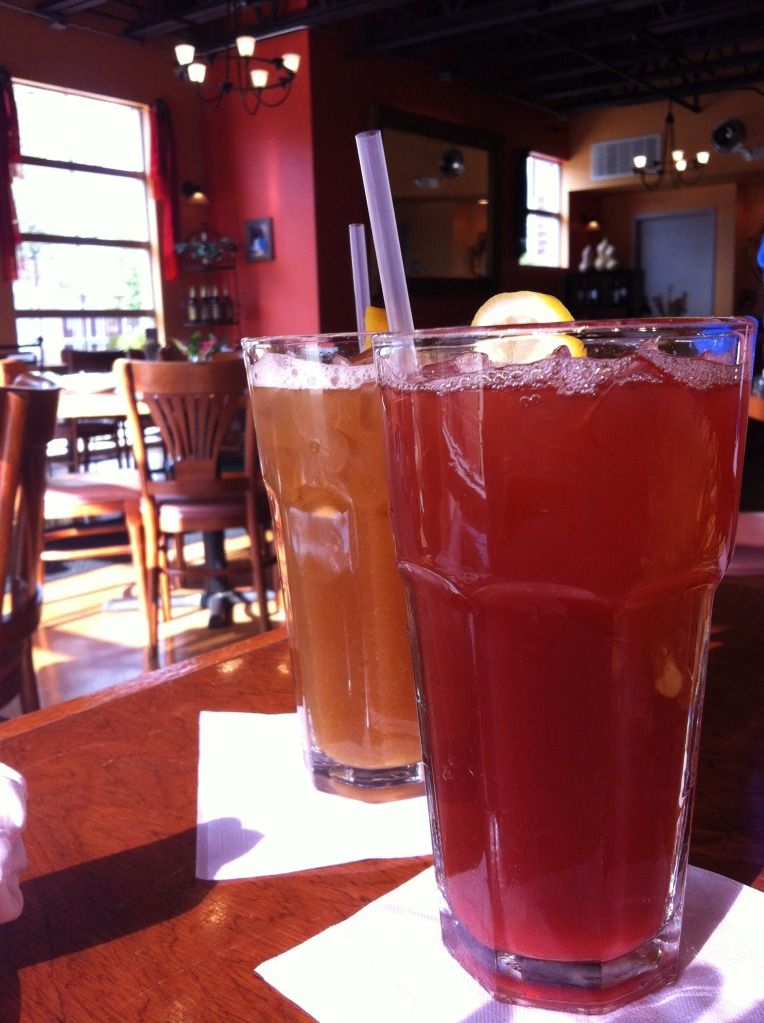 The restaurant ambiance is great. We were the only ones dining at this time this day so we received amazing service from the staff and our waitress, Teresa. The decor is definitely cozy, yet modern with the exposed ceiling and huge windows. You sort of feel like you're having dinner in someone's Spanish Villa with the chandeliers, gold gilded mirrors, red curtains, and warm paint. Every table has fresh flowers for romantic centerpieces. There's also an outdoor patio! The restaurant was also VERY clean. Most of the staff busied themselves with wiping down the windows, menus, and table decorations. Other staff were busy organizing everything and prepping for the dinner rush.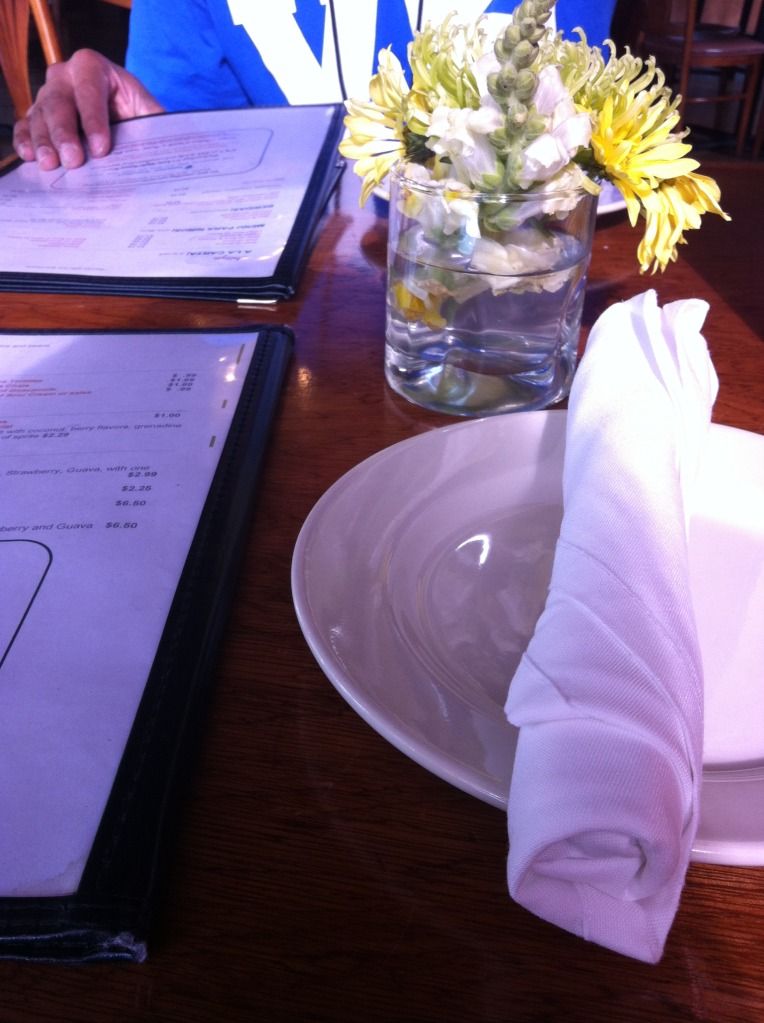 Their Flan was named the best in Milwaukee by the Milwaukee Journal Sentinel, but when I read their Desserts menu I was tempted by the description of the Terrina de Almendras. One of a kind? Cake? Almonds? Strawberries and Kiwis? Yes, please.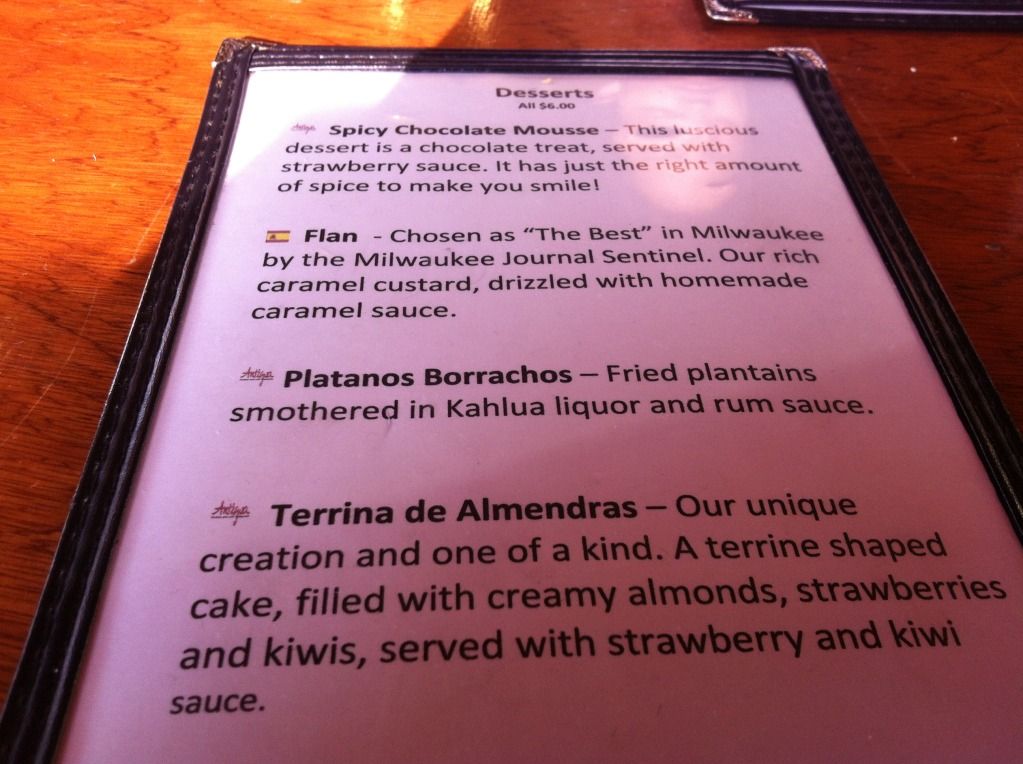 So very different than I imagined, but the taste was a combination of sweet, tangy, chewy, soft. You have the cake on the outside, the fluffy cream on the inside with pieces of almonds blended into it that gives it a chew much similar to a coconut candy. The fruit add a sweet and tangy element to it. On the plate were two different sauces, a red and a green one. I assumed it was strawberry and kiwi puree. Definitely tied the whole dessert together.
The food here is truly an art. From their appetizers, to the amazing paella, to the desserts. Everything was beautifully presented and evokes a see-smell-taste-and-feel experience. I wholeheartedly recommend Antigua.
Antigua Latin Restaurant
5823 W. Burnham Street
West Allis, WI 53219