Creating "Bug Out Bags" and Our Bug Out Bag Essentials
I love looking up and researching different resources and TV shows that inform people of different ways they should prepare for any kind of emergency. Emergency prepping has always been something I wanted to do for years but I didn't know how to approach my family with the idea or how we'd be able to afford it.

Eventually, I slowly started bringing it up to my boyfriend. Then my brother. Then my brother admitted to me that he does worry sometimes when he travels through the barren country side. What if the car breaks down? What if his phone dies? What if he travels to a place where phone service sucks? Winters in Wisconsin can be very cold and if one were to get stranded somewhere by their lonesome, it may take a while for help to arrive.

I wanted to create "Bug Out Bags" for myself, Chhally, and my brother. Bug Out Bags are basically backpacks filled with emergency supplies, all packed up and ready for when shit hits the fan. The three of us travel a lot and I don't know why I never thought of creating these bags sooner. I saw some emergency preparedness backpacks on Pinterest.com that sold for about $70-$100 each and I also did a lot of research on the internet looking for others who have created their own kits.

The amount of items that go into these bags were overwhelming but if you have some money to spare every paycheck or every time you go to the store, just throw an item for your Bug Out Bag (B.O.B.) into your cart.


Every time I went to ANY store to buy things (groceries, toiletries, snacks, etc.), I would place one or two extra items in my cart for our bags. First I started with non-perishable foods with lengthy expiration dates. I would buy other items as well depending on what store I shopped at. If I went to WalMart or Target, I would buy an extra pack of batteries or flashlights. If I went to the Dollar store, I bought lighters, candles, snacks, tuna, etc. Whatever I could find that was Buy One Get One Free or on Sale, I thought of our bags and what could be added to it.
Our bags are still not as fully complete as I'd like them to be but I still wanted to share what we have so far. Feel free to customize YOUR bags to your needs and area you live in.
This is the list I made as well as how much I bought each item for:
·
3 Backpacks - $8 each Walmart (We already had these; yay for keeping old school supplies)
·
Zip Lock Bags (Gallon) - $1 Dollar Tree
·
Zip Ties - $1 Dollar Tree
·

(
3) Flashlights and Batteries - $4/each LED Flashlights Walmart
·
(
3) Camping glow sticks - $2.44/each Walmart
·
(3) Ponchos -
$0.88 each Walmart
·
(3) Scissors -
$1 each Dollar Tree
·
(2) Duct Tape - $2.47 each Walmart
·
Pocket Knives - $5 each Walmart
·
Lighters - $5 pack of 6 Bic lighters at Walmart
·

Waterproof Matches - $2.37 for a 4-Pack at Walmart
·
Map (Haven't bought yet)
·

(2) Jars water purification tablets - $5.88 each Walmart
·
Enough water for 3 Days - $2.00 12-pack bottles Walmart
·
Enough Food for 3 days (2-3 Granola Bars, packs Beef Jerky, Can of food with easy open lid, Candy, instant noodle pack, trail mix, tuna salad mix with crackers, 1 pack of tuna, dried fruit, beef sticks with cheese, etc.)


Medical, First Aid, & Toiletries
·
(2) First Aid Kits
(Add gloves, tweezers, nail clippers, Neosporin, alcohol and burn wipes)
- $0.97 Walmart
·
(3) Hand Sanitizer - $1 Dollar Tree
·
Baby Wipes -
$1 for a Box Dollar Tree
·
Kleenex Packs (Can be used for toilet paper, cleaning, etc.) -
$1 for pack of 6 Dollar Tree
·
Wash cloths - Dollar Tree 2-Pack for $1
·
Small Bottle of Soap/Shampoo - (I already had a stash of these I bring home from hotel stays)
·
Medicines (Advil, Nyquil, Allergy, etc.) - $0.97 Small Travel Packs at Walmart
·
Tampons/Pads (just in Vicky's Bag)
·
Travel toothbrush and small toothpaste / mouth wash - $1 Dollar Tree
Protective Clothing - Think LAYERS
·
Under shirts, beaters or tank tops
·
2 Cotton t-shirts, black and white
The TOTAL COST of all I've bought so far, in the quantities I needed, were just under $100.00. Divided by 3 bags, they were around
$30 per bag
! We placed all like items in the large gallon sized Ziploc bags. All food items in one, tools together in one, medical supplies and toiletries in another.
Our bags don't have the extra set of clothing yet
except for extra socks and underwear. I still really want to buy the HEPA Masks and extra jackets.
Portable Food and Snacks with expiration dates all ending in 2014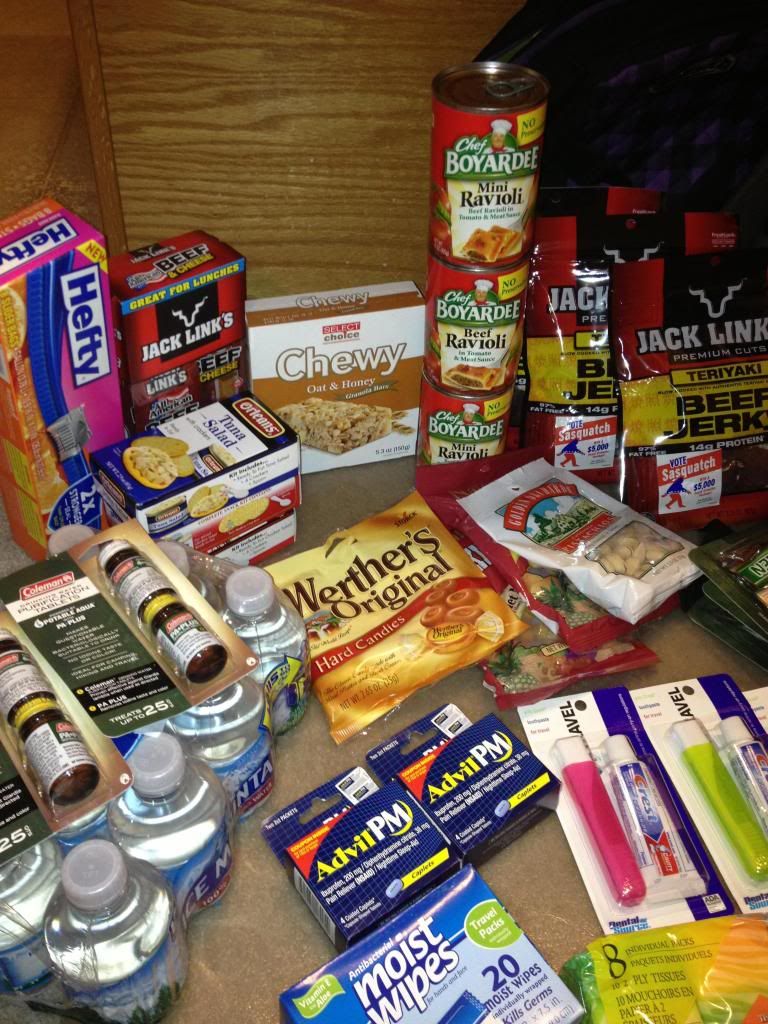 Here is all the food divided and placed into 3 Ziploc bags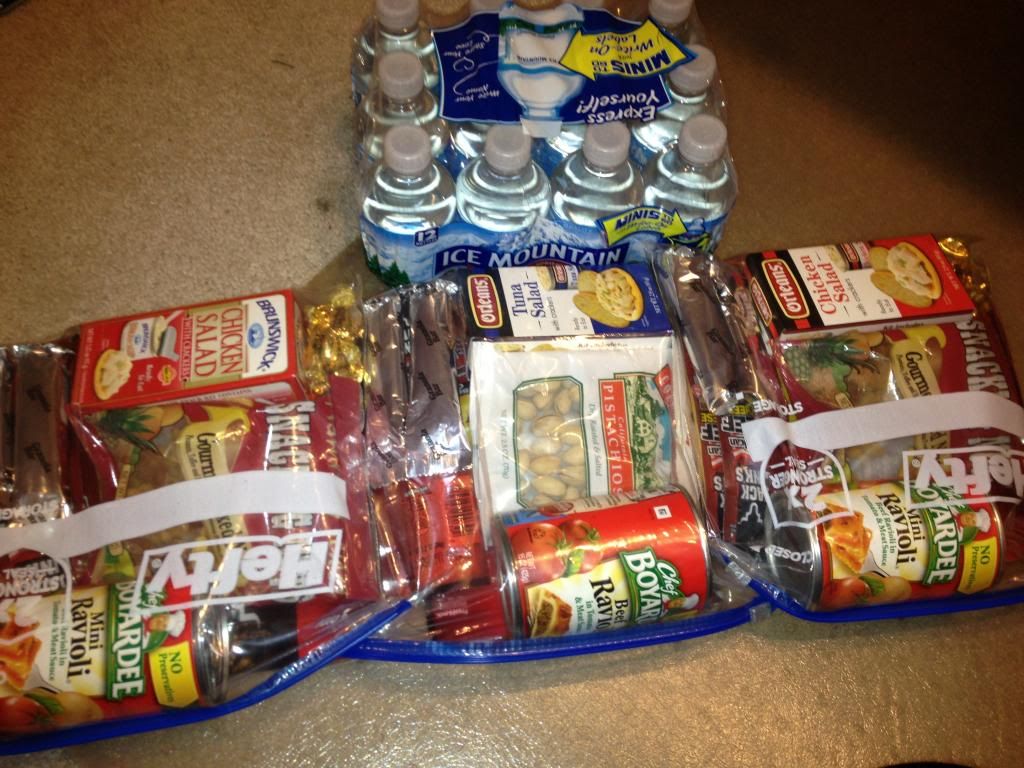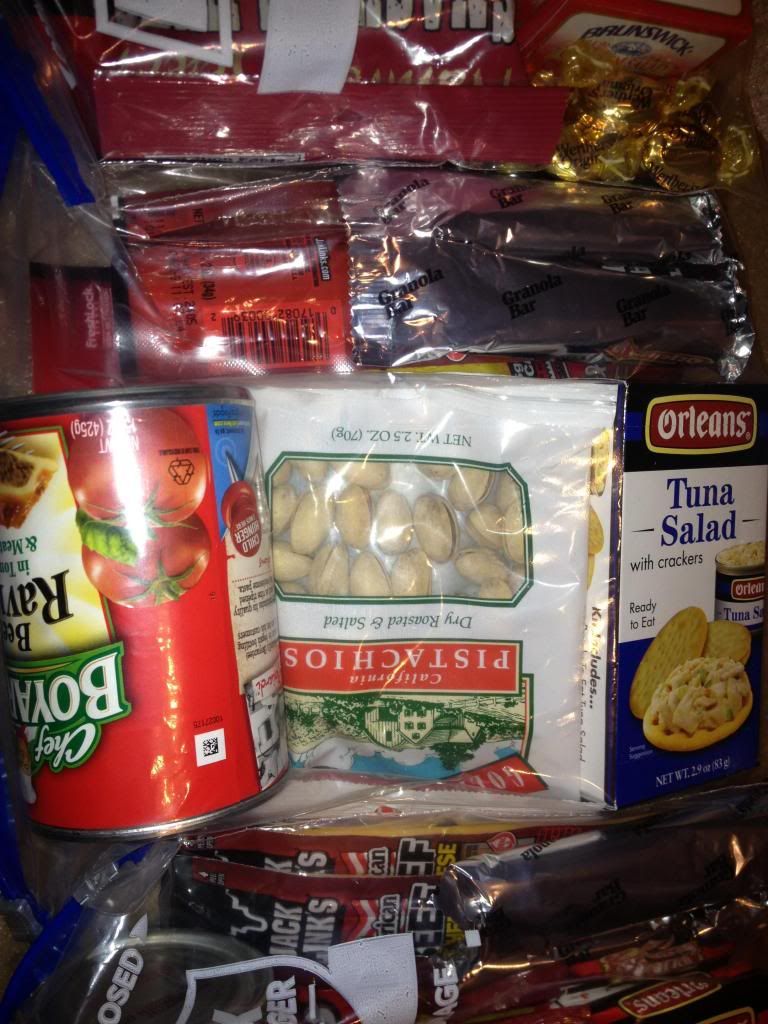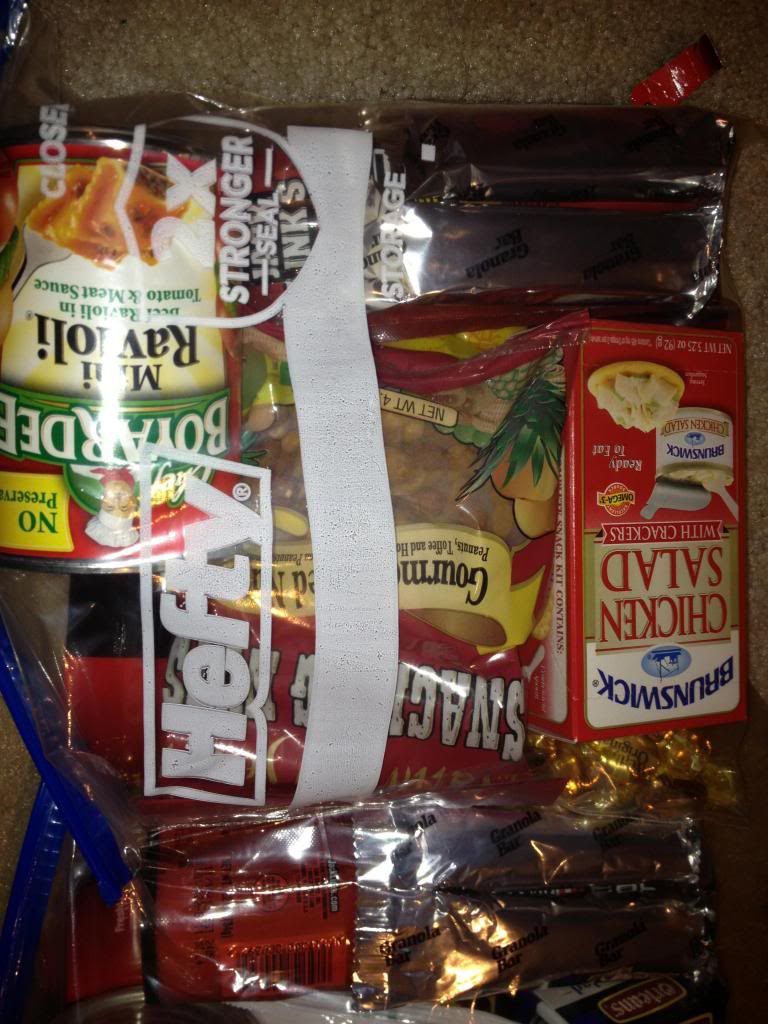 Toiletries, most of these can be found at the Dollar store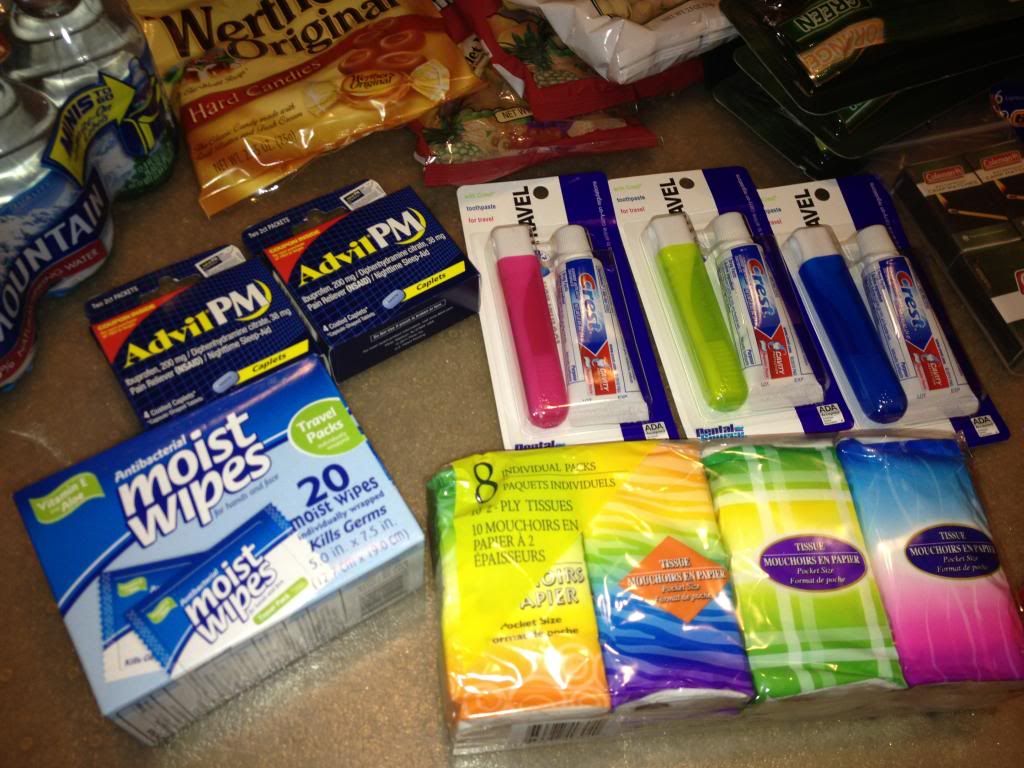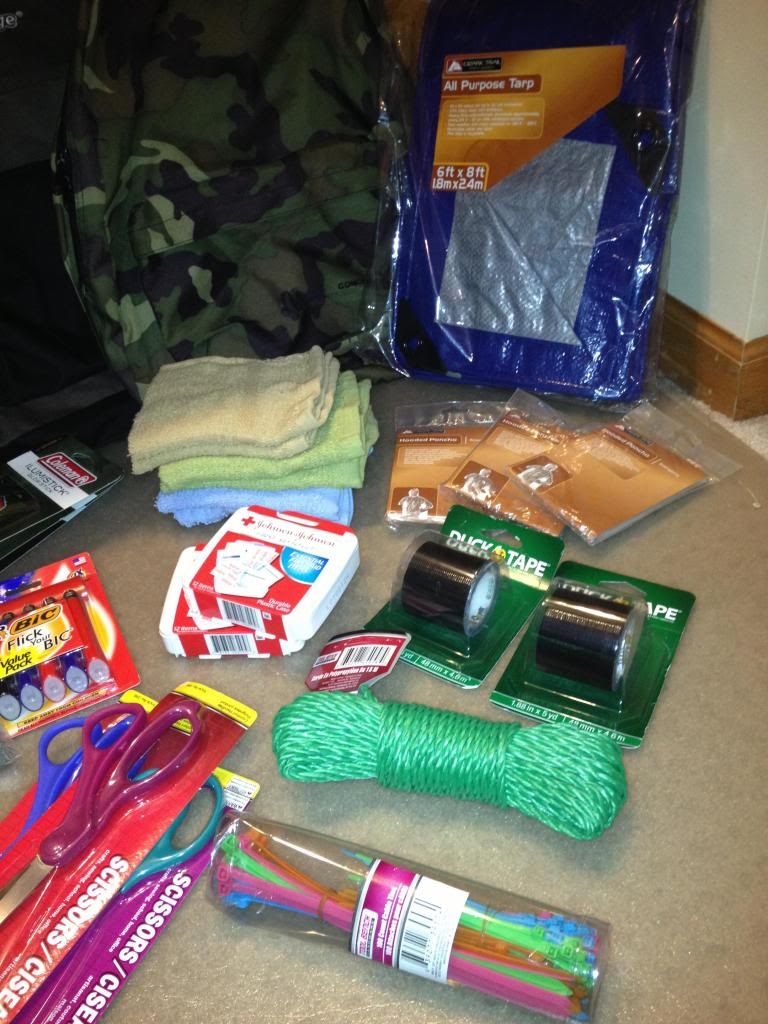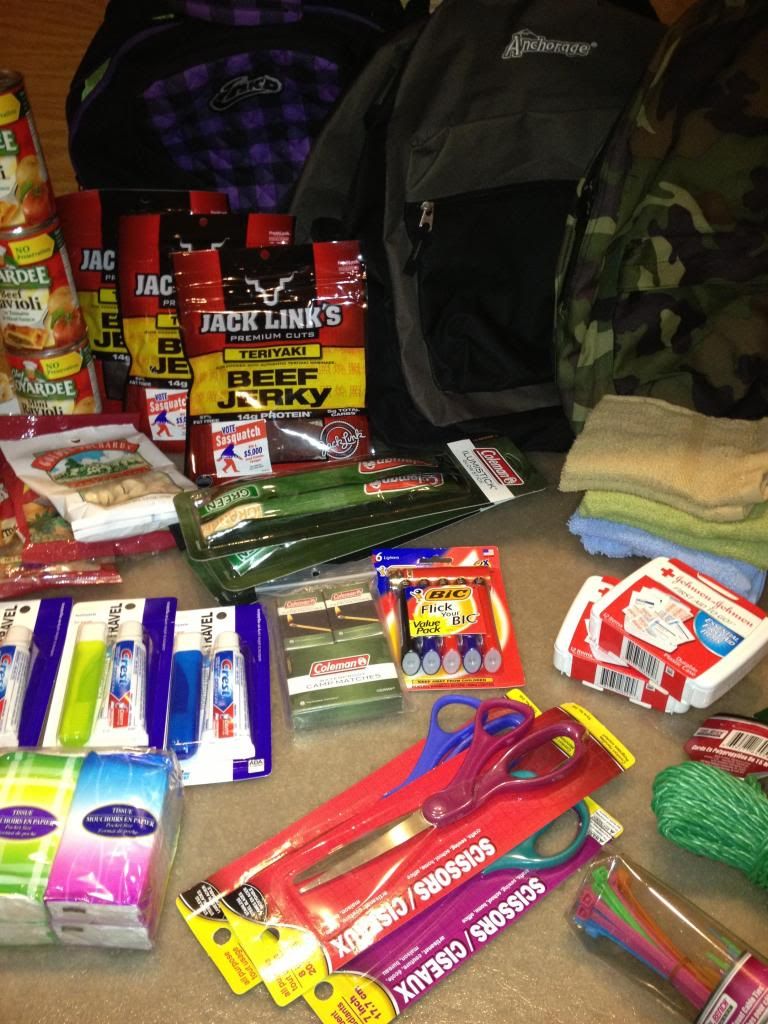 Here are photos of the toiletries and tools all divided and placed into separate bags.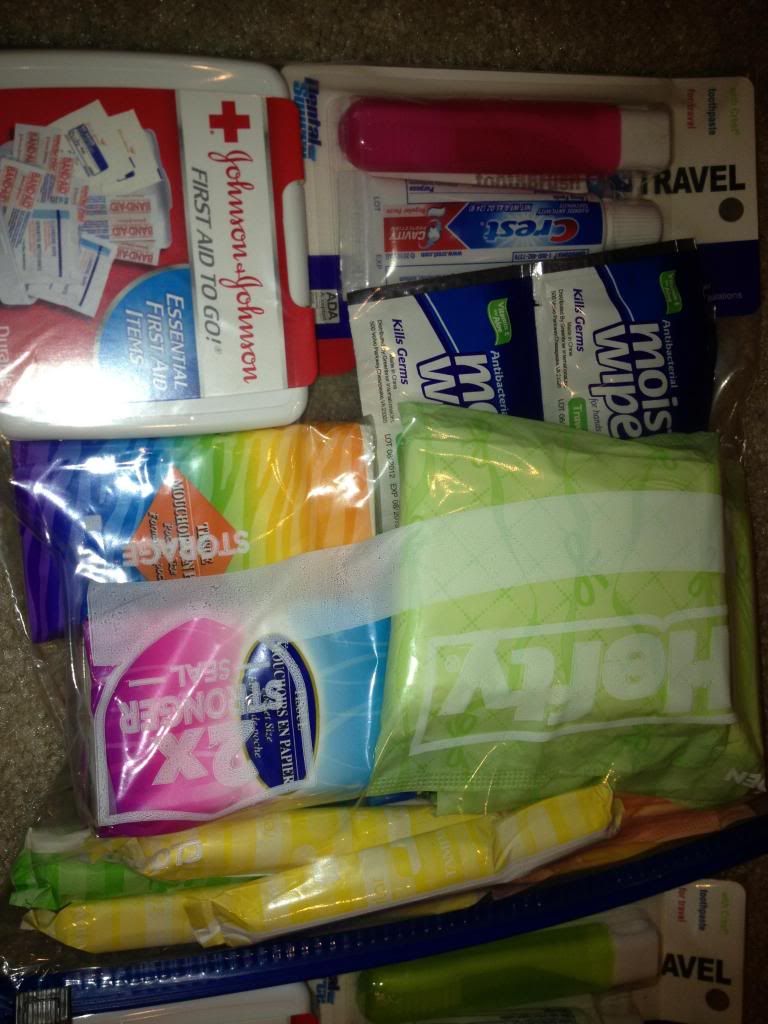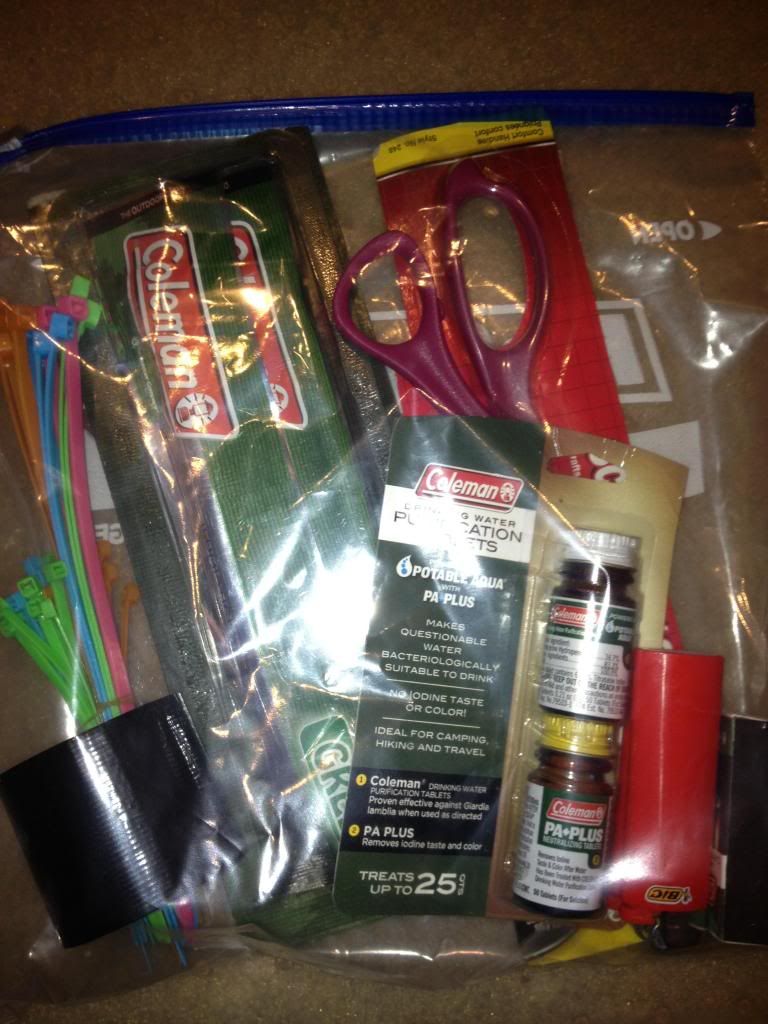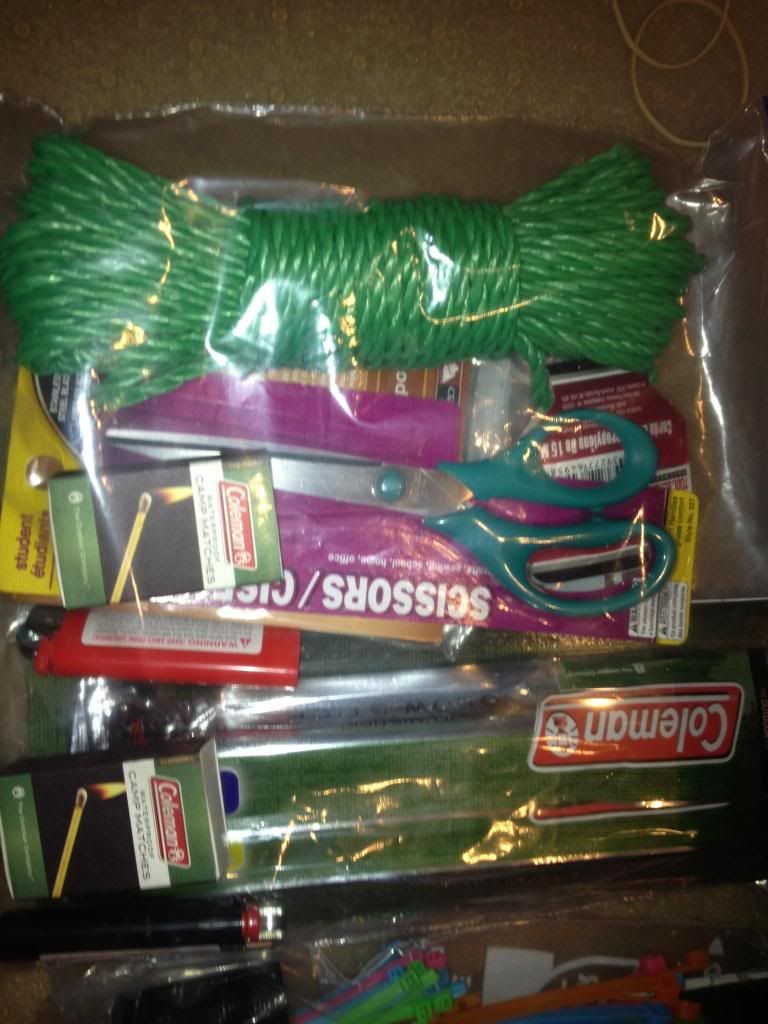 Each backpack is customized for each person. Mine is the only one that has tampons and pads. My brother's bag and mine each contain a first aid kit. Chhally's doesn't but his contains a large tarp and rope, and ours doesn't.
Chhally is the one who drives our car the most so he keeps his B.O.B. in the trunk along with a spare tire, tire changing tools, jumper cables, and other auto tools. My brother also keeps his in his trunk along with a few blankets and tools. I'm usually ALWAYS home so I keep my bag hidden near the foyer.
With everything packed, the backpacks don't weigh too much. We can easily carry them and are planning on adding more things as we can afford them. To prevent the noisiness of the plastic bags crisping and crunching as you walk, my best tip is to wrap each bag in an article of clothing like the extra hoodies or sweaters.
I hope that my post was helpful in giving you all ideas on creating your own Bug Out Bags. We all feel very accomplished and a little more secure. When it comes to unexpected situations we feel more relieved in knowing we have a slight upper hand to react and be prepared should anything happen.
Do I believe that something will happen such as the end of the world as we know it? No, not really. I hope bad things don't happen.
Happy Prepping!
-TSJ